The majority of the 2020 Rice Football Recruiting class will become signees during the early signing period. Follow all the action here.
We'll have all the latest news and notes from the Early Signing Period updated throughout the day. The 2020 Rice Football Recruiting class won't be finished for another several weeks, but the Owls hope to secure the majority of their commits today.
10:26 a.m.
That's a wrap. No additional players are expected to sign with the Owls today. Fullback Brian Hibbard and defensive lineman Jamal Marshall were the only commitments to not sign today. I still have full confidence both with sign with the Owls come February.
Rice signs 17 today. Head coach Mike Bloomgen will address the class in a press conference this afternoon. #FlightSchool20 #GoOwls https://t.co/ViFgHfDjON

— The Roost (@AtTheRoost) December 18, 2019
9:05 a.m.
The west coast is represented. Cerritos quarterback TJ McMahon is in.
7:41 a.m.
Next up, a pair of dynamic playmakers on both sides of the ball. Wideout Andrew Mason and defensive end Cole Latos are Rice Owls!
7:33 a.m.
JUCO offensive lineman Adam Sheriff is the next to jump on board.
7:26 a.m.
Not slowing down any time soon. Braedon Nutter, Trey Phillippi, Sean Fresch, Plae Wyatt and Kobie Campbell are in!
7:13 a.m.
Nate Kamper is in. This guy has flown under the radar a bit since committing in April, but he might be the best pass-catching option at tight end as soon as he steps on campus. Some time in the weight room with Hans Straub could turn him into a massive weapon for the Rice offense.
7:02 a.m.
The floodgates are opening in central time. Geron Hargon and Khalan Griffin are the first two members to turn their letters of intent in to South Main.
6:50 a.m.
For the third straight year, Rice will sign a grad transfer quarterback. Former TCU signal-caller Mike Collins is the first of that trio that comes to South Main with starting experience at the Power 5 level. Rice will have plenty of options to choose from in the QB room this upcoming fall.
6:48 a.m.
A grad transfer from Colgate, Jovaun Woolford is in.
6:33 a.m.
The last of the East Coast commits is official. Mike Leone is a Rice Owl!
6:05 a.m.
The East Coast contingent kicks us off this morning. Jordan Dunbar (New York) and Jalen Reeves (Florida) are the first official members of the class. Reeves is one of the most prominent additions we expect today — had offers from LSU, Boston College, NC State, Pitt, Syracuse and others.
6:00 a.m. CST – Wednesday
Fire up the fax machines. The first signatures should be coming in soon. Players can send in their letters of intent at 7:00 a.m. local time, meaning those on the East Coast are in the clear. Times will vary depending on signing day ceremonies and availability, but expect to see several letters of intent come in early this morning.
Tuesday night
Most of the 2020 Rice Football recruiting class has been nailed down prior to the start of the Early Signing Period. The most recent list is available here. We have signing day ceremony schedules for the following commits (all times CST):
Khalan Griffin and Sean Fresch – 10:30 a.m.
Jalen Reeves – 11:00 a.m.
Kobie Campbell – 11:45 a.m.
Plae Wyatt – 2:45 p.m.
Rice has the No. 4 class entering Wednesday morning. If the Owls can maintain there position, they'll match the highest-rated class in program history (since rankings were first aggregated around 2003). That particularly impressive for a program that's finished 11th or worse in the last four seasons.
C-USA Recruiting ranks on the eve of the early signing period. Rice checks in at No. 4, and that's without graduate transfers accounted for. #FlightSchool20 #GoOwls pic.twitter.com/NsFI33OSB4

— The Roost (@AtTheRoost) December 18, 2019
Make sure to stay tuned on Twitter and follow our live blog here during the day for updates. Get the latest list of the 2020 Rice Football Recruiting commits by clicking the tracker below.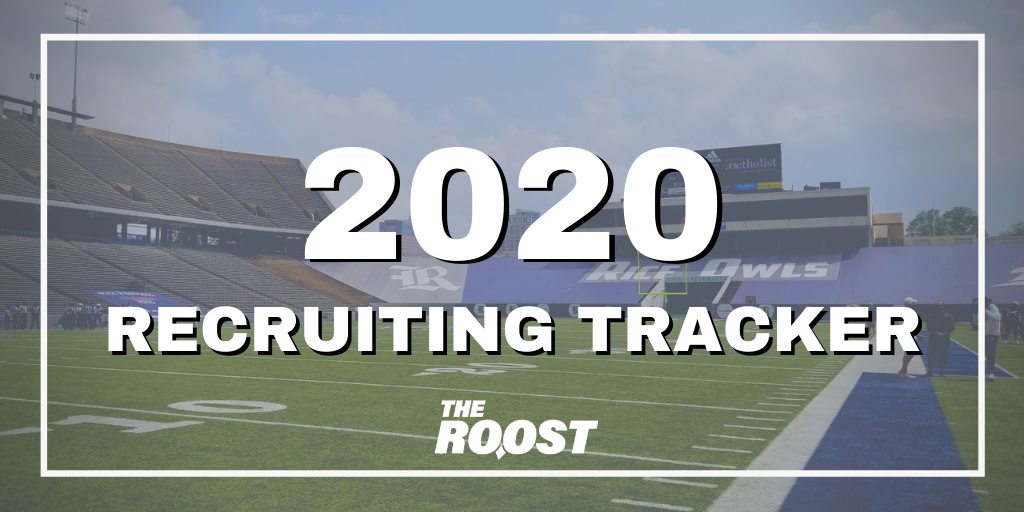 Subscribe on Patreon for exclusive Rice football recruiting updates, practice notes and more. React to this story on our forum.
Recent Posts