Rice Football – NFL Owls
Active players
Myles Adams (Seahawks) – Adams signed a Reserve/Futures contract with the Seahawks this past offseason and impressed in camp before being signed to the practice squad.
Calvin Anderson (Broncos) – As first reported by The Roost, Anderson signed with the Broncos from the Jets practice squad in 2019. He's under contract in Denver through 2021 on a two-year, $1.08 million deal.
Chris Boswell (Steelers) – Signed through 2022 on a four-year, $16.8 million deal.
Bryce Callahan (Broncos) – Formerly with the Bears, Callahan is under contract with the Broncos through 2021 on a two-year, $12.4 million deal.
Christian Covington (Chargers) – After spending the 2020 season with the Bengals, Covington agreed to a one-year, $990K deal with the Chargers this offseason.
Emmanuel Ellerbee (Falcons) –  Ellerbee had previously been on the practice squad with the Seahawks and Texans before signing with the Falcons practice squad after fall camp this season.
Jack Fox (Lions) – Fox won the starting job in Detroit prior to the 2020 season. He's signed through 2021 on a one-year, $780,000 deal.
Nick Leverett (Bucs) – Leverett spent the entire 2020 season as a member of the Buccaneers' practice squad and resigned this offseason on a Reserve/Futures contract. He's currently on the reserve/COVID-19 list and could formally claim a spot on the 53-man roster once he is reinstated.
Austin Trammell (Falcons) – Unselected in the 2021 NFL Draft, Austin Trammell signed an undrafted free agent contract with the Atlanta Falcons later being signed to their practice squad following camp.
Free agents
Phillip Gaines – A seven-year NFL veteran, Gaines spent the past two seasons with the Texans.
Justin Gooseberry – Gooseberry signed with the Falcons as an undrafted free agent following the 2020 NFL Draft before being released. He participated in The Spring League in 2021.
Andrew Sendejo – Sendejo has spent the majority of his 11 year NFL career with the Vikings prior to stints with the Eagles and most recently, the Browns.
Austin Walter – Walter was with the 49ers in 2020 before crossing the country to spend most of training camp with the Jets. He was released midway through the preseason.
**Last updated August 2021. All contractual information sources from OverTheCap and SpotRac**
Rice Football NFL Owls Weekly Updates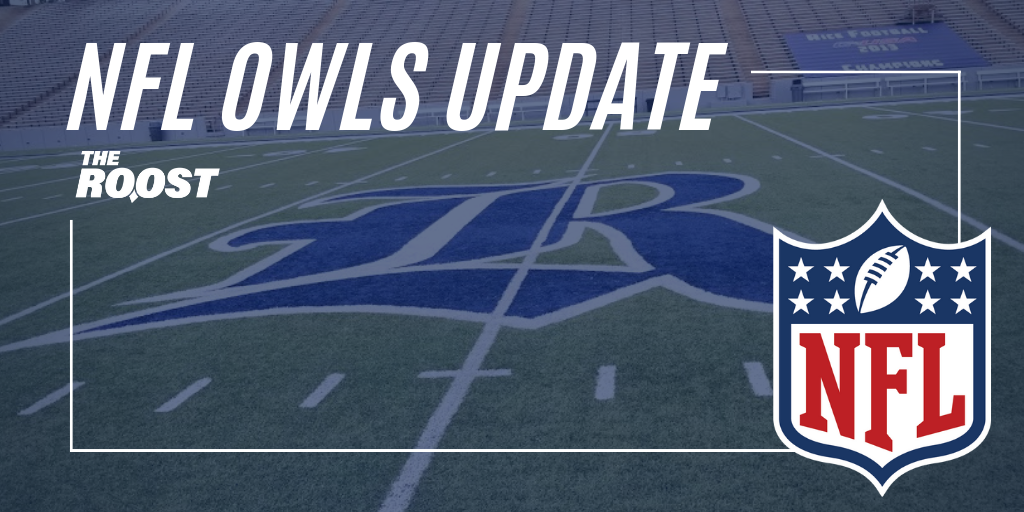 Rice Football is well represented on 2021 NFL rosters. Here's the latest from the NFL Owls in action in Week 3. There are former Rice football players scattered across the NFL. Stay tuned each week for their game results and notables from each player. Team NFL Owl(s) Week 3 Result Week 4 Los Angeles Chargers […]