The 2020 Rice football recruiting class has a quarterback in the fold. JUCO passer TJ McMahon has committed to the Owls.
If Rice football has learned anything about the quarterback position, they know depth matters. In 2018, the Owls turned to scout team quarterback Wiley Green in their first conference win. Last season, true freshman JoVoni Johnson and grad transfer Tom Stewart provided an effective tandem. Who takes the majority of the snaps in 2020 remains to be seen, but the Owls have a new contender in the race.
TJ McMahon, quarterback for Cerritos College in Norwalk, CA has committed to Rice. McMahon just completed his freshmen season, giving him potentially three years of eligibility to play at South Main. That first year of college ball was productive for McMahon, who threw for 2,667 yards in 11 games, completing 65.8 percent of his passes. He threw 24 touchdowns and 5 interceptions.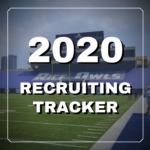 McMahon represents an upgrade in the passing game from the current roster. As a group, the Owls' tallied 1,992  passing yards, 13 touchdowns and 56.3 percent completions. Last year's leading passer Tom Stewart won't return.
Unlike Stewart who arrived in the summer last year, McMahon intends to enroll early, joining the team in January. He'll be in attendance for spring practices, getting the extra time to learn the offense which Stewart wasn't afforded.
McMahon is being brought in to compete for the starting job. He'll battle returning quarterbacks JoVoni Johnson and Wiley Green. There's plenty of time before Mike Bloomgren will have to make a decision, but McMahon checks all the boxes with his athleticism, arm talent and mental ability. McMahon is an exciting talent and a name Rice fans need to know.


Subscribe on Patreon for exclusive Rice football recruiting updates, practice notes and more.
Recent Posts