The 2020 Rice Football recruiting class picked up another important addition. Wide receiver Andrew Mason has committed to the Owls.
Adding explosiveness has been near the top of the list in terms of priorities for Rice in the incoming recruiting classes. The Owls bolstered their receiving corps in 2019 with speedsters Jake Bailey and Zane Knipe.
The Owls knew they could never have too much speed, though. They continued on that theme with their first wide receiver commitment of the 2020 class, Andrew Mason.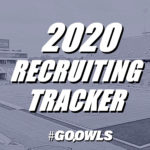 Mason started drawing interest from Rice this spring right around the time his offer list began growing. The Brentwood, TN receiver has picked up a dozen offers over the past few months, adding Rice in May. It was clear from the start he was near the top of the pecking order for the Owls who fought off Army, Yale and others to earn his commitment.
He was on campus for a visit on Monday following a string of recruiting camps and visits that have made up a busy summer for the Owls. His interactions with the staff, the location of campus and the totality of the entire experience proved to be enough for him to make his pledge.
Mason is the first commitment for the Owls since running back Khalan Griffin came aboard in May. If things continue to track well on the recruiting trail there might be a few more additions before the summer is through.
Don't let his star-rating fool you, Mason is a game-changer. He'll be a dynamic playmaker for Rice as soon as he gets on the field. Incorporating someone with his brand of quickness and ability to extend plays will add a wrinkle the Owls have been missing.

Subscribe on Patreon for exclusive Rice football recruiting updates, practice notes and more.
Recent Posts