The 2020 Rice Football Recruiting class has another quarterback. A week after landing JUCO passer TJ McMahon, the Owls picked up a commitment from former TCU signal caller Michael Collins.
The quarterback position has been the weak link on offense during the Mike Bloomgren era. Rice has relied on a pair of grad transfers and a flurry of freshmen to get the job done. The results, so far, have been too often insufficient. For that reason, Rice isn't taking any chances at the position going forward, adding two quarterbacks in the 2020 Rice Football Recruiting class.
The staff quickly identified Wyatt Begeal as a top priority among the 2021 class. Begeal has been a clear target for a while now. The 2020 class has only recently come into focus. In the weeks leading up to the Early Signing Period, Rice has received commitments from Cerritos College quarterback TJ McMahon and now former TCU quarterback Michael Collins.
Collins won three state championship in Connecticut while in high school prior to enrolling at Penn. After playing sparingly in three games, he transferred to TCU where he joined a crowded quarterback room in 2017. Collins played in 10 games over the past two seasons, throwing for 1,108 yards, six touchdowns and two interceptions. He made the move to Texas with the intention of playing FBS football. He'll get another shot at fulfilling that dream at South Main.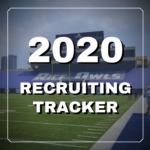 Collins is a pro-style passer with good vision and a pretty solid arm. He adds an experienced component to a quarterback room which features no other upperclassmen with meaningful field experience at the FBS level. He's exactly the kind of guy you take a shot on for one year, hoping he can pull together his good moments into one final victorious campaign.
Taking multiple quarterbacks in one class is unusual, but the timing might just make sense for Rice this year. McMahon has three years of eligibility remaining. Collins has one. Former starter Wiley Green has three and redshirt freshmen JoVoni Johnson has four. The collective talent in the quarterback room has improved since Bloomgren arrived. Now they've got to find someone and stick with them.

Subscribe on Patreon for exclusive Rice football recruiting updates, practice notes and more.
Recent Posts