The 2020 Rice football recruiting class includes a lock-down secondary, bolstered by the Owls' new commitment, corner Sean Fresch from Austin, Tx.
A rousing run through June landed Rice yet another commitment. The Owls kicked off the month with the Adidas 3 Stripe camp, hosting hundreds of athletes on campus. One of those players was Austin cornerback Sean Fresch who has committed to play his college football at Rice.
Rice was interested in Fresch from the moment he stepped foot on campus at camp. He ran sub 4.4 40-yard dashes and came back and replicated the feet at the Owls' Junior Day. Watching him work against some of their top targets in person was the litmus test the Owls needed. His blazing speed, complimented with impressive work in one-on-ones made extending an offer an easy decision for the Rice staff.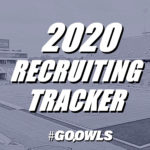 Fresch turned down offers from Army, UTSA, UTEP and Sam Houston in favor of the Owls. Rice is carving out a talent pool of top-flight Texas talent. Fresch marks the eighth in-state addition in the 2020 class. Rice is sure to add more to that total before they wrap things up on signing day.
With Fresch in the fold, the Owls' secondary class is as robust as any in recent memory. Safety Plae Wyatt, corner Devin Gunter, corner Jordan Dubar and Fresch are going to be mainstays at the back of the defense for years to come.
It's hard to not get excited when you turn the film for Fresch. His ability to read the quarterback and make plays on the ball in the air are hallmarks of a successful player in defensive coordinator Brian Smith's scheme. That innate ability combined with the jets to take a tipped ball to the house in the blink of an eye makes him an exciting addition to the 2020 class.

Subscribe on Patreon for exclusive Rice football recruiting updates, practice notes and more.
Recent Posts