There's no stopping the momentum of the 2020 Rice Football recruiting class, who added another big-time defensive pledge, this time from corner Jordan Dunbar.
The Owls' productive spring on the recruiting trail has bled into the summer. The string of success the Owls have had to this point hasn't come by accident. Their intentional, relentless efforts have paid off so far, and they paid off again as another priority target has decided it's time for him to make things official. Corner Jordan Dunbar has committed to Rice Football.
The Iona Prep defensive back made the weekend trip from New York to South Main with anticipation. Both he and the coaching staff had felt his decision was imminent. Sure enough, he made his decision public, announcing his official commitment to the Owls.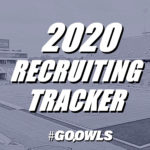 Before he shut things down in favor of the Owls, Dunbar had options. The 5-foot-11 corner had 21 offers ranging from the Ivy Leagues to Tulane, FAU, Army and Air Force. He'd been near the top of the board after receiving his offer from Rice in May and felt the tug to come down south and be a part of what Rice is building.
Dunbar the second player at the position in this class for Rice, joining Missouri City's Devin Gunter who made his commitment to Rice on June 13. He's also the fourth man to join the 2020 class this month.
There's a lot to like about Dunbar on the field. He's relentless in pursuit and plays with intensity. He has a proven ability to play on an island and win one-on-one battles, something he'll do a lot of during his time at South Main. Dunbar is an asset in coverage and he should only get better with more time on the field during his senior year.


Subscribe on Patreon for exclusive Rice football recruiting updates, practice notes and more.
Recent Posts