Geron Hargon is going to be a Rice Owl. The first linebacker of the 2020 Rice football recruiting class has made his pledge to ball out at South Main.
Rice has picked up important commitments at several key positions in the 2020 class. They had several big bodies in the trenches and some elite skill position players, but no linebackers secured entering the heat of the summer months. That changed Friday when the Owls picked up a crucial out of state target, Geron Hargon from Shreveport, Louisiana.
Hargon had 17 offers. The original plan was to wait until his birthday, August 31, to make a public announcement of where he'd play his college football. As the recruiting process progressed it became clear to him he didn't need the added time. By the time he arrived at Rice this weekend he'd narrowed the list down to two: Rice and UAB.
He'd been impressed by what Bill Clark is doing with the Blazers, but the culture and fit he'd found with Rice proved to be the deciding factor. The power of what the Owls could offer for life after football weighed heavily in his final decision, too.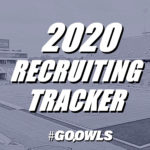 With Hargon in the fold, the Rice defensive class is starting to shape up. Cornerbacks Devin Gunter and Jordan Dunbar along with Safety Plae Wyatt represent a tremendous start, which should continue to get better.
When it comes to the embodying Intellectual Brutality, Hargon fits the bill. He's an intelligent, rangy linebacker with the lateral agility and quickness to make plays all over the field. He's a missile at the point of attack, but he does his work with poise and diligence. Hargon is a sure tackler and a reliable piece which the Owls hope to build their defense around from years to come.

Subscribe on Patreon for exclusive Rice football recruiting updates, practice notes and more.
Recent Posts