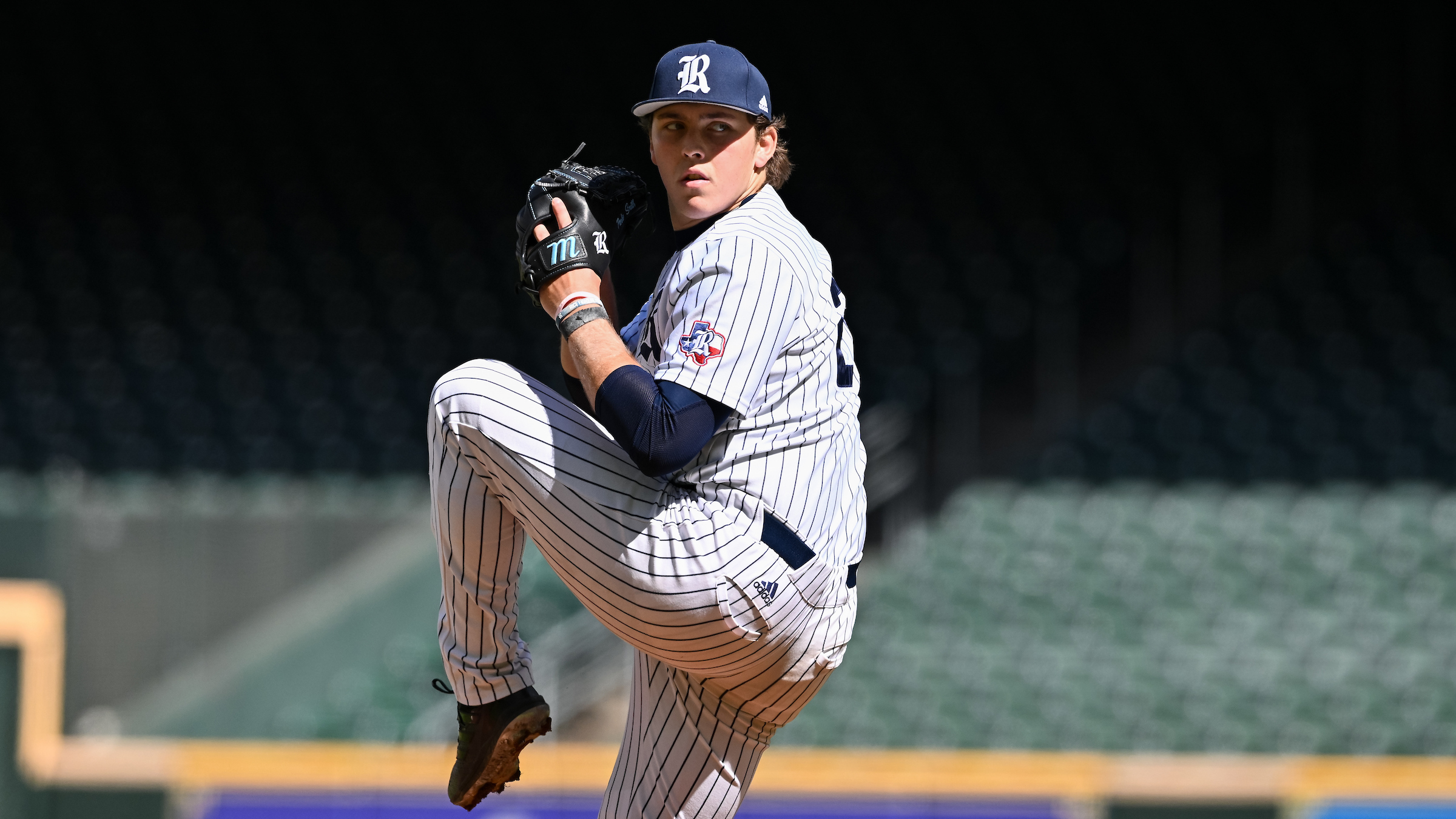 From youth summer camps to Friday night starts, Parker Smith has turned childhood dreams into reality as Rice baseball's ace.
Parker Smith's desire to one day play for Rice baseball began as early on as his elementary school years. The initial passion was cultivated at Reckling Park, the Owls' ballfield which hosted the collegiate team every spring before giving way to youth camps in the summers — the very same youth camps Smith grew up attending.
Smith, a Bellaire native from just down the road, was only 10 years old or so at the time, but he still remembers being on that field and having those dreams.
He dutifully came to camp at Rice year after year, ostensibly there to learn about baseball. But the ballpark itself and the traditions and trimmings of Rice baseball which surrounded it started to make a mark on his young mind, too.
A pastime that began, he later joked, "just so my parents could get me out of the house", continued to grow. Summer camps turned into private lessons, first with volunteer assistant Clay Van Hook and then with volunteer assistant Pat Hallmark. It was during those days the dream really began to take hold.
"I was around the ballpark a lot and it kind of imprinted on me," Smith said "I knew my way around the offices and the [pitching] lab."
Almost by happenstance, Rice had become a part of Smith before he had become a part of Rice. Smith continued to show up and continued to learn.
Every young boy dreams of playing in the major leagues from the moment they first pick up a bat. Smith certainly had those aspirations too, but it wouldn't feel right if his path didn't first go through West University Place and Rice baseball.
Eventually, the proverbial call would come, albeit in a manner Smith could never have anticipated. A right-handed pitcher with a successful high school career at Bellaire, Smith had been lightly recruited, which came with one reassuring caveat. His dream school, Rice, wanted him to make the short drive to South Main and play for the Owls.
There was a catch, though, and it was a big one. Recruited initially by head coach Matt Bragga, Smith had been informed the Owls would be moving on from the manager following the 2021 season. If he were to commit, it would be to a program without a coach.
Many players would have balked at such a suggestion. Commit without a coach? But Smith was deadset. He wanted to pitch for Rice. So, despite the uncertainty, he made the leap and committed to the university of his boyhood dreams.
Bragga was relieved of his duties soon after. Weeks later, Rice would announce the hiring of current head coach Jose Cruz Jr. That fall Smith was on campus and just like that his Rice career — a dream that had been cultivated and nurtured for more than a decade — had become a reality. But there was still more work left to be done.

Wednesday
For those who follow college baseball, there's something unconventionally curious about midweek games. In short: they're breeding grounds for chaos.
The most established pitchers, the aces, are reserved for Friday night. If a team is chock full of arm talent, that might bleed into Saturday, perhaps even Sunday. All bets are off by the time you get to Tuesday or Wednesday.
It's unusual for 15-run games to happen very often on Fridays when both teams are throwing their top arms. By Wednesday, however, things can get squirrely fast.
Wednesday is the proving ground for underclassmen, for veterans struggling to climb the ladder back into more prominent weekend roles. That's primarily where Smith landed in his first year on campus and it's when he earned his first start, just down the road against Houston Baptist.
Smith was dominant that night, earning his first career win while tossing six innings of shutout ball with four strikeouts. He allowed just two hits. The next week, also on a Wednesday, he was tagged for six runs (although only two were earned) in 4.2 innings against Baylor. To this day, he's never given up more runs in a collegiate game. Thus were the ups and downs of learning on the job.
Despite the ever-changing assignments, Smith made the most of a challenging freshman season. By midseason he was appearing regularly on the weekend, tallying three Saturday appearances and four Sunday outings. He was never the front-line Friday night guy, that was Cooper Chandler's role, but he was getting closer and closer to the top of the pecking order.
Looking back, Smith attributes some of his early struggles to that constant uncertainty. "Bouncing around and not being able really to have a routine [was hard]," he said. Would one bad night get him banished to the back end of the bench? The worries crossed his mind, he admitted.
Even with those doubts, Smith's talent had a knack for overcoming adverse circumstances. He made the final start of the season for the Owls on May 21 against FIU, throwing 5.1 innings and allowing three hits and one run en route to a Rice win, ensuring the only series sweep the team registered all year.
The victory was a high point, both for the Owls and for Smith, who felt a change coming to a program yearning to take the next steps back toward greatness.
The first-year pitcher ended the regular season with the best ERA among Rice baseball starters (4.19) and made the second most starts on the team (10), three of which came against crosstown rival Houston, earning Smith a selection to the All-Silver Glove team. It was a promising beginning for the young hurler who seemingly hadn't yet found his groove.
Following the season finale against FIU, head coach Jose Cruz Jr. singled Smith out specifically in his postgame comments. "He's a freshman," Cruz Jr. said, "and we have big plans for him."

Good
Baseball truly is a year-round sport, particularly for those with an itch to better themselves and hone their craft. Smith, as many players do, made the commitment to offseason work.
Following his debut freshman season he packed his bags and headed west to the California Collegiate League where he spent the summer as a member of the Santa Barbara Foresters. Something clicked for Smith while pitching with the Foresters. In seven starts, he went 5-0 with a 2.31 ERA and a 1.07 WHIP with 37 strikeouts in 25 innings.
His final outing came in the league championship game and he dazzled, throwing six innings of one-run ball, allowing just four hits and striking out five. Behind Smith's strong start, the Foresters won the title.
The triumph was the capstone moment in a summer of growth and self-assurance. "It was the first time where the ERA had been kind of eye-popping," Smith said. "It was nice to know, 'I'm good. I can hang with anybody,' and that mentality I kind of brought into this fall and spring."
That mental shift meant everything to Smith.
"No matter what happens, who does something, who hits a home run off you, that didn't make me bad," Smith recounted. "I missed a spot. I'm still good. I'm still better than the hitter in the box, no matter what."
"No matter what happens, who does something, who hits a home run off you, that didn't make me bad. I missed a spot. I'm still good. I'm still better than the hitter in the box, no matter what."
More than any strikeout total or ERA threshold, that discovery unlocked something inside of Smith and set the course for a breakthrough 2023 season. He didn't add any pitches or drastically overhaul his approach on the mound. He believed in himself, truly believed, and attacked the offseason with a zealousness that was impossible to miss.
Cruz Jr. took notice of the intensity with which he approached his training. "He wants to be great," he said of Smith. "He works really hard. He wants the ball."
Aided by pitching coach Parker Bangs, the Pigpen Pitching Lab and that extra level of determination, Smith set out to improve the little things. His only meaningful mechanical adjustment came with his windup motion. His offseason focus became cleaning that up and streamlining it to the point where it was as good as he could make it.
In Smith's eyes, those tweaks have made all the difference. "The pitches break later, they're sharper and they move better," he said of the changes. "Being able to clean [the mechanics] up is why that's been able to happen."
Everything felt right and performed well in intrasquads. All that was left was to take those adjustments to the field and throw against players in different jerseys.

Ace
The 2023 Rice baseball season arrived and Smith was tested immediately. The Opening Day starter for the first time in his collegiate career, Smith would breeze through the first two innings at Reckling Park against Louisiana before trouble arrived in the third.
Smith hit the first batter. Then, after a wild pitch, he fell victim to a bunt single that put two men on without any outs. A single put Louisana ahead 1-0. Soon after, another single made it 2-0. Then a sac fly put Smith and Rice in a 3-0 hole.
In the span of 15 minutes of action, Smith had fallen behind 3-0 in what was, at that point, the most prominent start of his pitching career.
"I would have crumbled," Smith said. "Last year, once things started going bad, they went really bad."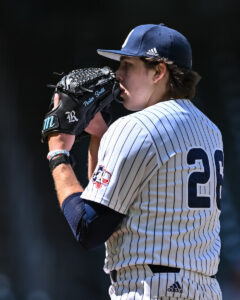 Not this year, though. Not only did Smith get out of the inning without allowing further runs, he sent nine of the next 10 Louisiana batters down in a row, allowing one walk sandwiched in between what could only be described as a dominant stretch through the middle innings.
By the time Smith was relieved in the top of the seventh inning by Krisha Raj, Rice had the lead and Smith was in line for the win if the Owls could hold on. Louisiana would rally to take the lead, spoiling a final decision for Smith, but even without the win, the groundwork for a breakthrough season had been laid.
In baseball terms, Smith's final line — 6 innings pitched, three earned runs allowed, five hits, one walk and five strikeouts — qualified as a quality start. He'd given his team innings and kept them in the game. It wasn't a perfect outing, but it was good, really good. And it put his team in a position to win. And that was the ultimate goal, after all.
For Smith, how he got there was almost as important as the end result.
"We have a mantra in our pitching staff," Smith said. "Pitch by pitch. You focus on the pitch that's at hand. You don't focus on any other pitch. You focus on what you've got to do now, in this moment, and don't let everything else weigh on top of you."
"It's one pitch. You've done it a million times. And then you get the ball back, and it's the next pitch."
That's how Smith has attacked the season, pitch by pitch. His 2.75 ERA is the lowest of any starter in Conference USA and ranks inside the Top 25 among all pitchers in the nation. Rice baseball — a program renowned for its pitching prowess — hasn't produced a qualified pitcher with an ERA that low since 2018.
There was no doubting it. Smith had turned himself into a bonafide ace. His head coach agrees.
"He's a bulldog." Cruz Jr. said. "He works hard. His stuff has been really good. He's able to move the ball around the zone. He has multiple pitches to get you out on. He's a complete Friday night guy. And he wants the ball."

Desire
Sitting in the dugout on the morning of the Owls' final regular season game, Smith drank in the entire surreal experience. "People know who I am now," he joked with an amused smile on his face. "It's kind of fun to be the first 'ace' in a good while."
The word ace, as he said it, seemed to come naturally to him. Even if it came accompanied by a humble, "quote-unquote" gesture with his fingers. Truthfully, though, the moniker fits.
Even though so much has transpired since, Smith still carries himself as one who remembered the days spent practicing on the field in front of him as a youngster.
When Smith takes the mound next it'll be in his first postseason game as a collegiate pitcher. When he steps across the white line painted onto the turf field the wistfulness will vanish and the bulldog will reemerge.
Rice baseball takes on Dallas Baptist in the first round of the Conference USA Baseball Tournament, somewhat ironically, on a Wednesday.
If the Owls are to make a run deep into the tournament they'll almost certainly need a gem from Smith along the way. He's been their anchor all season and he'll be the one called upon when the lights shine brightest.
Much in the same way his mind focuses on the next pitch when he's on the mound, he hasn't gotten overly burdened with the challenges that will bring just yet.
"I haven't even thought about that," he said with a grin. "It'll be fun. I'm excited. It's a challenge and I welcome it. It's something I look forward to. Bring it on."

Subscribe on Patreon for exclusive Rice football recruiting updates, practice notes and more.
Recent Posts