Prized defensive end target Jalen Reeves has committed to the Owls at the 2020 Rice football recruiting class continues to bring in elite talent.
The 2020 Rice Football recruiting class had plenty of skilled players. There were skill players like Khalan Griffin and Andrew Mason, defensive backs like Sean Fresch and Plae Wyatt and versatile athletes who will force their way onto the field somewhere like Devin Gunter and Cole Latos. But there wasn't a top-flight pass-rushing defensive end.
Now there is. Florida defensive end Jalen Reeves has committed to Rice.
Reeves built a relationship with the Owls coaching staff over the summer. He was ready to commit to the Owls before he ever stepped foot on campus. Not only did Rice find a time to get him to South Main for the Baylor game; he committed on the spot.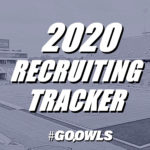 This is a huge get for Rice football. The Owls are no strangers to beating out Group of 5 programs, service academies and the Ivy League programs. Reeves had offers from all of those groups, but he also had offers from Boston College, NC State, Pitt, Syracuse and LSU. The 2020 Rice football recruiting class has taken the next step and is getting players sought after by elite college football programs across the nation.
With a little over two months until the early signing period, Rice has filled a little more than half of their class. Reeves' addition puts the Owls at 14 commits and keeps them near the top of the 2020 Conference USA recruiting ranks.
Reeves was a sought after player for a reason. Those on staff view him as an "Anthony Ekpe 2.0" type of player. He has the power and the burst to move off blocks and get to the quarterback. Take a look at his highlights and smile. He's going to be a fun one to watch at South Main for years to come.


Subscribe on Patreon for exclusive Rice football recruiting updates, practice notes and more.
Recent Posts