Rice football added another big talent to their 2020 recruiting class with the commitment of versatile lineman Cole Latos from Allen, Tx.
In between an offer from Illinois State and a visit to an ACC school, Latos stopped by South Main for a brief one day visit. The Rice coaching staff liked what they saw in person so much that they couldn't let him leave without an offer. That offer pushed the Owls firmly into the lead in his recruitment. Not long after, Latos announced he'd committed to Rice.
After spending the 2018 season along the defensive line, Latos plans to flip over to the offensive side of the ball for his senior season. Right now, the Owls know he'll play in the trenches. Exactly where he'll line up longterm has yet to be defined, but his first crack will likely come on the offensive line.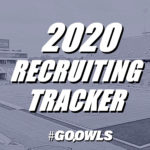 The athleticism Latos possesses is superb. Beyond his adeptness in the trenches, he's a star baseball player and former teammate of current Rice target Will Harbour. Latos is officially being offered as an athlete. He's the second commitment of the 2020 class with that designation, a noticeable adjustment to the Owls' recruiting strategy.
Rather than limit themselves to the best players position by position, Rice has prioritized finding the best athletes and figuring out where they fit on the field later. They're looking for the biggest, strongest and most athletic options available. That takes some calculated risks in terms of roster construction, but it allows Rice to maximize the amount of talent they have on their roster at an expedited rate.
Latos is an aggressor with excellent awareness. He's cognizant of what's going on around him and smart enough to position his body in the best place to make a play. Whether he lines up with the offense or the defense, he's going to be another impact athlete up front.


Subscribe on Patreon for exclusive Rice football recruiting updates, practice notes and more.
Recent Posts