Rice football opens its 2021 season at Arkansas. Here's what Mike Bloomgren had to say about it and some notes from the first official depth chart.
This is the first of a couple of updates coming this week as Rice football prepares to take on Arkansas. Stay tuned for more on projected quarterback usage and more in the days ahead.
Subscriber content.

Please

login

to see the full post or visit our Patreon page.
Head coach Mike Bloomgren addressed the media this week prior to the Owls' game against the Arkansas Razorbacks. A few players chimed in as well. We'll start with some high points from the presser then hit on the depth chart changes and additional notes from practice.
Press Conference Quotes
"I think it's got us in a place where we're very excited looking at a number of spots on our roster where we've got more depth than we've ever had. We had competitions in spots where we never could really get the competition to be what it needed to be." – Mike Bloomgren on growth in fall camp
"My comfort level is to have a starter and to have him take every rep in practice. That's not where we are right now. The people at Arkansas are going to see two quarterbacks this weekend because they've earned the right to do it. They can do everything in our offense, but one of them is a little more dynamic when he's running with the football." – Mike Bloomgren on the QB battle
"I don't want to put a ceiling on Jake Bailey, but what I will tell you is that same ascension you saw last year we saw and that it's really progressed even more this offseason. His confidence as a football player, his confidence and knowledge in this offense has been really good. I'm excited to have him on the field. Obviously, I think its natural to compare him to some Austin Trammell type role because Austin was our go-to guy and a guy we targeted a lot of plays for on third down." – Mike Bloomgren on Jake Bailey's role in the offense
"Unfortunately I had to take off some time, being a little banged up in the spring, so getting back to a fall camp and getting back out there with my guys [is great]. It's fun to be involved [from the sideline], but there's nothing like actually doing it and it makes it a lot easier to lead when you can lead by example instead of being the guy on the sidelines trying to tell them to do better. I've had a great time and I feel really good." – Defensive lineman Trey Schuman on returning from injuries
"The depth is the depth is definitely incredible. Guys like [Bradley] Rozner, guys like August Pitre who are going to be huge contributors to the offense this year, it's a blessing to get to take the field with them every day… And then the guys know behind us, we just have amazing depth. It's just really incredible, being able to have those guys to share the moments with. It definitely brings my confidence up as well, having my brother's behind me."  – Wide receiver Jake Bailey on the depth at wide receiver
Depth Chart
Here's an updated depth chart from Rice football heading into the Arkansas game.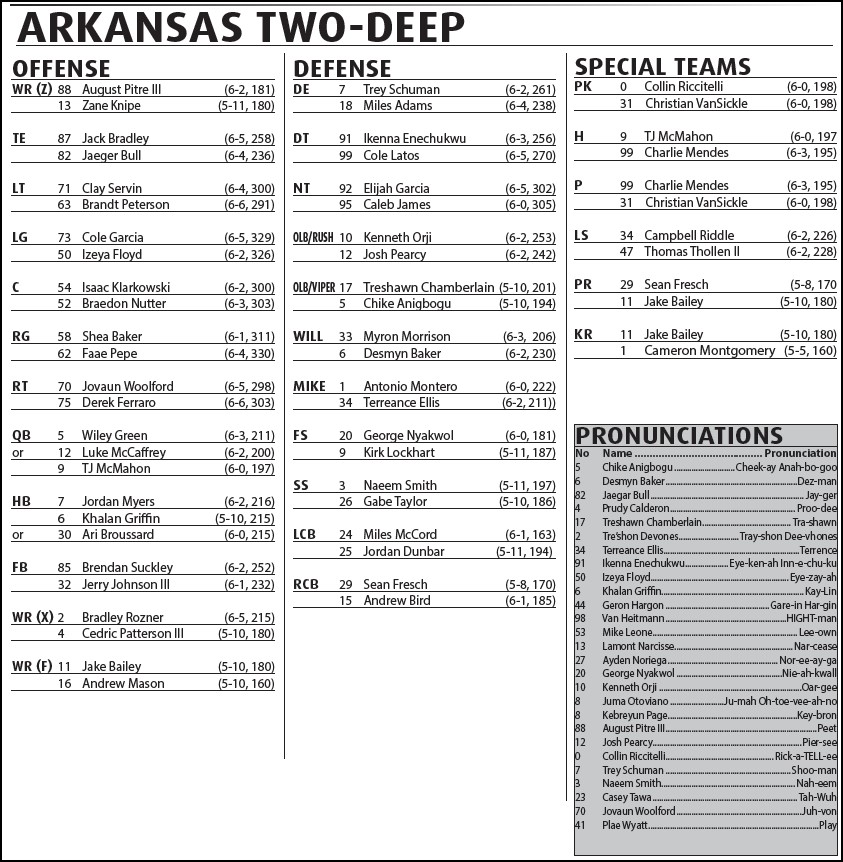 Depth Chart Reaction and notables

Subscribe on Patreon for exclusive Rice football recruiting updates, practice notes and more.
Recent Posts