Rice football caps off its nonconference schedule against Texas Southern. Here's what Mike Bloomgren had to say about it, injury updates and practice notes.
This is the first of a couple of updates coming this week as Rice football prepares to take on Texas Southern. We'll include updates from head coach Mike Bloomgren's midweek press conference, then dig further into the details on the depth chart and what the team looks like on the field headed into the weekend.
Subscriber content.

Please login to see the full post or visit our Patreon page.
To some degree, Rice football finds itself in the twilight zone. Conversation this week focused on the quarterback situation and the adjustments needed for this team to bounce back and find the win column once again. There were a handful of significant adjustments to the depth chart and some developments from practice early this week. First, the quotes:
Press Conference Quotes
"I think we learned more about individual players. We learned who would be able to step up in those situations and no matter who the opponent, be able to get their job done and do their one-eleventh. I think that's great information that our coaching staff needed. Sometimes people can do in practice and can't do it on game day, and we learn that about some guys unfortunately too. Because it's a meritocracy, we'll have to make some tough changes, and changes that nobody wants to make, but I love these kids. We told them in their living room, that's one thing they could count on. – Mike Bloomgren on what the team has learned so far in nonconference play
"I was impressed with the way Jake was able to come in and really manage everything and get everything orchestrated and make plays go and find the open guy and deliver the ball. I was also impressed with Coach Tui and how they communicated on the sideline and how they got him into some calls he was comfortable with. There was some good there and some lessons learned, to say the least." – Mike Bloomgren on the play of Jake Constantine
"My composure in the pocket, I'd say is really good. I'd like to say I stand my ground real strong and keep my eyes downfield. I definitely think I can improve in some things like getting rid of the ball on time, last game just coming in there a little rusty, I definitely think there's some fixing that I could do with my own play, but I'm just excited to get after it this week." – Jake Constantine on his strengths as a quarterback
"I do think the defense is a lot better. The reason I believe that is because I know the work we put in. I know what we did last year. We're only missing one piece from that team last year. We were ranked in the top 20. And I believe that all of our players understand that we haven't played to our standard yet. We play up to our standard in the first three quarters against Arkansas, but since then, defensively, we haven't plated to our standard. We need to get back to playing how we know we can because that's a big thing about Coach Blooms philosophy: run the ball, control the clock and play great defense. If we can't play great defense, we can't do the other two." – Kenneth Orji on whether the defense is better than the numbers reflect
Depth Chart
The Rice football depth chart was updated following the Texas game and for perhaps the first time this season, the primary changes involved some performance-based role changes in addition to the more customary injury adjustments.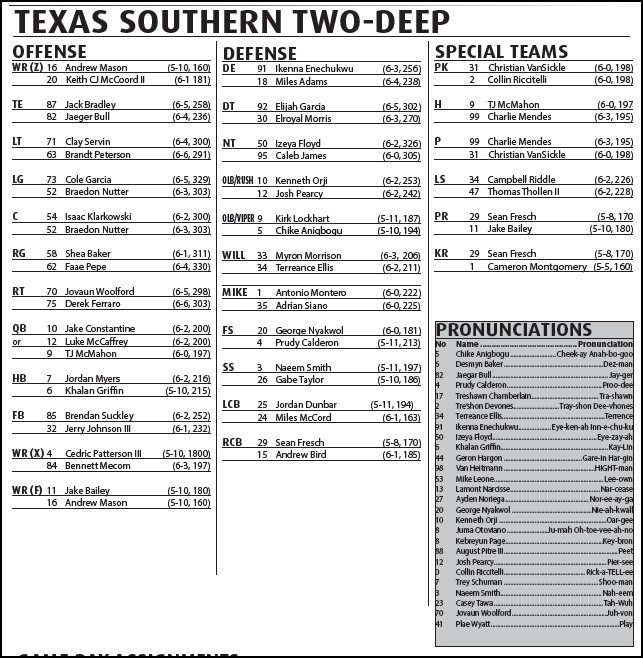 Injuries shake up depth chart

Subscribe on Patreon for exclusive Rice football recruiting updates, practice notes and more.
Recent Posts