The majority of the 2021 Rice Football Recruiting class will become signees during the early signing period. Follow all the action here.
Recruiting is the lifeblood of all college football programs and Rice is not different. The Owls have brought in a tremendous amount of talent under Mike Bloomgren so far and this week will continue that trend. This live tracker will follow all the latest news and updates through the week, with some notes along the way on the class as it is finalized. If you're not a subscriber yet, here's your chance.
Which newcomers will make sizable impacts like Khalan Griffin, Gabe Taylor and others did this year? This class has plenty of talent which could find its way to the field soon.
Now, let's dig into the latest from the Early Signing Period, below.
Updates
3:43 p.m.
Closing thoughts: Rice adds for the present and future with talented 2021 class
Rice Football Recruiting: Owls move from "needs" to "wants" with 2021 class
12:17 p.m.
Wide receiver MJ Singleton is the only scholarship commit not to sign today. He told me earlier in the week he'd be signing in February. That appears to still be the case, but we'll follow up on him soon. With that, Rice has announced the remainder of their 2021 class.
Head coach Mike Bloomgren will meet with the media at 1:00 p.m. today, then we'll have some further remarks to share with everyone.
9:53 a.m.
And one from the West Coast. Offensive lineman Faaeanuu Pepe has sent in his letter of intent.
7:42 a.m.
Two more in the trenches. Offensive lineman John Long and defensive lineman Elroyal Morris have signed.
7:39 a.m.
The entire linebacking corps is now in. Kenny Seymour has signed with Rice.
7:37 a.m.
Defensive lineman Blake Boenisch makes it six signees from Texas thus far.
7:29 a.m.
Another Katy product has inked with the Owls, defensive end Cal Varner is in. Right after him, tight end Jaggar Hebeisen's signature comes in, as well as another Alabama product, wide receiver Jayden Folmar.
7:26 a.m.
Another from Alabama, this time its wide receiver Peyton Stevenson.
7:18 a.m.
Just picked up a wave of Texas signees: linebackers Aidan Siano and DJ Arkansas as well as offensive lineman Ethan Onianwa are all in.
7:07 a.m.
Make that two from the Yellowhammer state. Fellow safety Marcus Williams has also signed.
7:05 a.m.
The first of a sizable Alabama contingent is on board. Safety Joshua Williams has signed.
6:40 a.m.
A quick reminder, recruits can sign at 7:00 a.m. local time, so the bulk of the Texas and Alabama commits should start getting finalized in the next hour or so.
6:25 a.m.
Defensive lineman Jalen Hargrove is in. That should wrap up the early morning east coast contingent.
6:14 a.m.
That's two, and this one is a big one. Rice has its quarterback in the boat. Shawqi Itraish has signed.
6:08 a.m.
The first signature is in! Corner  Jonathan "Jojo" Jean is officially an Owl.
5:47 a.m.
Good morning folks. We'll be posting updates here throughout the morning as players sign as well as updated the recruiting tracker. Should be a good day.
Tuesday night
The majority of the 2021 Rice Football recruiting class is in the boat prior to the beginning of the Early Signing Period. In most typical years, we'd have a firmer timetable of who is putting pen to paper when, but COVID-19 has impacted some of the traditional ceremonies. Players are eligible to fax in their signatures starting at 7:00 a.m. local time.
Conference USA Recruiting ranks on the eve of the Early Signing Period.

Rice checks in at No. 4. #FlightSchool21 #GoOwls pic.twitter.com/axaQ31s1IS

— The Roost (@AtTheRoost) December 15, 2020
Rice has the No. 4 class entering Wednesday morning. From a rating perspective, the Owls are on track to surpass last seasons' average rating, the highest ever from a Rice recruiting class.
Make sure to stay tuned on Twitter and follow our live blog here during the day for updates. Get the latest list of the 2021 Rice Football Recruiting commits by clicking the tracker below.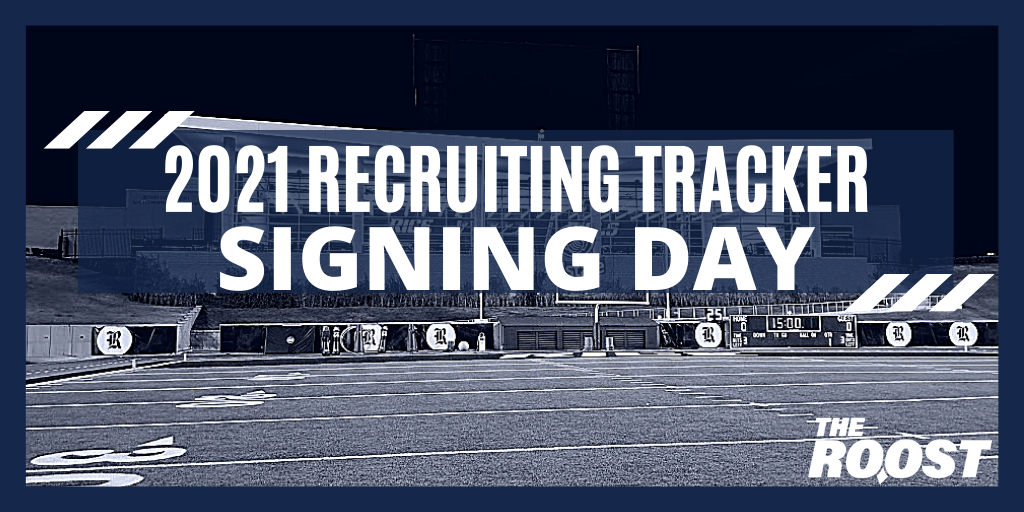 Subscribe on Patreon for exclusive Rice football recruiting updates, practice notes and more.
Recent Posts