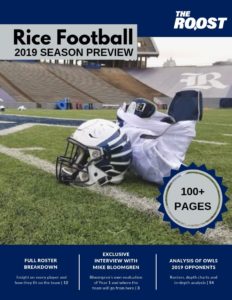 The staff of The Roost is pleased to announce the release of the 2019 Rice Football Season Preview, a 143-page digital magazine detailing everything you could imagine about the Owls' upcoming season.
This preview is the culmination of months of research, interviews and analysis. Consider it your one-stop-shop as you prepare for the Owls' 2019 season.
Available as a downloadable PDF for on-the-go access, this preview contains the following:
1. A breakdown of every position group on the team
Who are the favorites to start entering fall camp? What sort of production should you expect from returning starters? Which of the incoming transfer players should make their mark the quickest? Answers to all of those questions are included, as well as notes on every single player on the 102-man roster.
2. An exclusive interview with head coach Mike Bloomgren
We sat down with coach to get his honest evaluation of where the Rice football program is right now and how he views the progress the team is making as they approach 2019. He's sticking to a process, one which he remains confident will bring success to South Main.
3. Previews of each 2019 opponent and all 14 CUSA Teams
Supported by local beat writers and experts who cover each team, this section has a wealth of knowledge about every CUSA Team and all the Owls' 2019 opponents.
Rice fans will want to familiarize themselves with the teams they'll be facing this year. Get to know which players each squad will have to replace, which newcomers could make noise in 2019 and what outstanding questions those in the know have about their respective squads.
4. A complete 2019 Conference USA Football Preview
Available separately to purchase, everyone who purchases the 2019 Rice Football Season Preview will also get The Roost's 2019 Conference USA Football Preview. We made our picks for preseason honors, top games to watch in 2019 and a closer look at how every team in the conference stacks up.
Don't need any more convincing? Get a copy for yourself today

Subscribe on Patreon for exclusive Rice football recruiting updates, practice notes and more.
Recent Posts