The Roost is pleased to announce the release of the 2020 Rice Football Season Preview and the Conference USA Football Season Preview. These digital magazines are the one-stop-shop for every Rice and Conference USA Fan.
The 2020 Rice Football Season Preview
This 160-page publication details everything you could imagine about Rice Football. It includes insight on the entire Rice roster as well with commentary on all 110 players on the active roster. From there the scope widens to breakdowns of every Conference USA team and all four of the Owls' non-conference opponents. Each profile was compiled with the help from local experts who cover that beat on a daily basis with timely transfer information and any available spring updates.
As one Rice administrator dubbed it:
it's the bible for Rice Football fans.
Get answers to questions like "Who has the leg up in the Rice quarterback battle?" or "Which incoming players could make the biggest impact?" or "Who are the top returning players Rice will face in Conference USA?"
This year's edition included a feature story based on an interview with Athletic Director Joe Karlgaard. In the piece, we discuss how he evaluates head coach Mike Bloomgren's coaching tenure.
The 2020 Conference USA Football Season Preview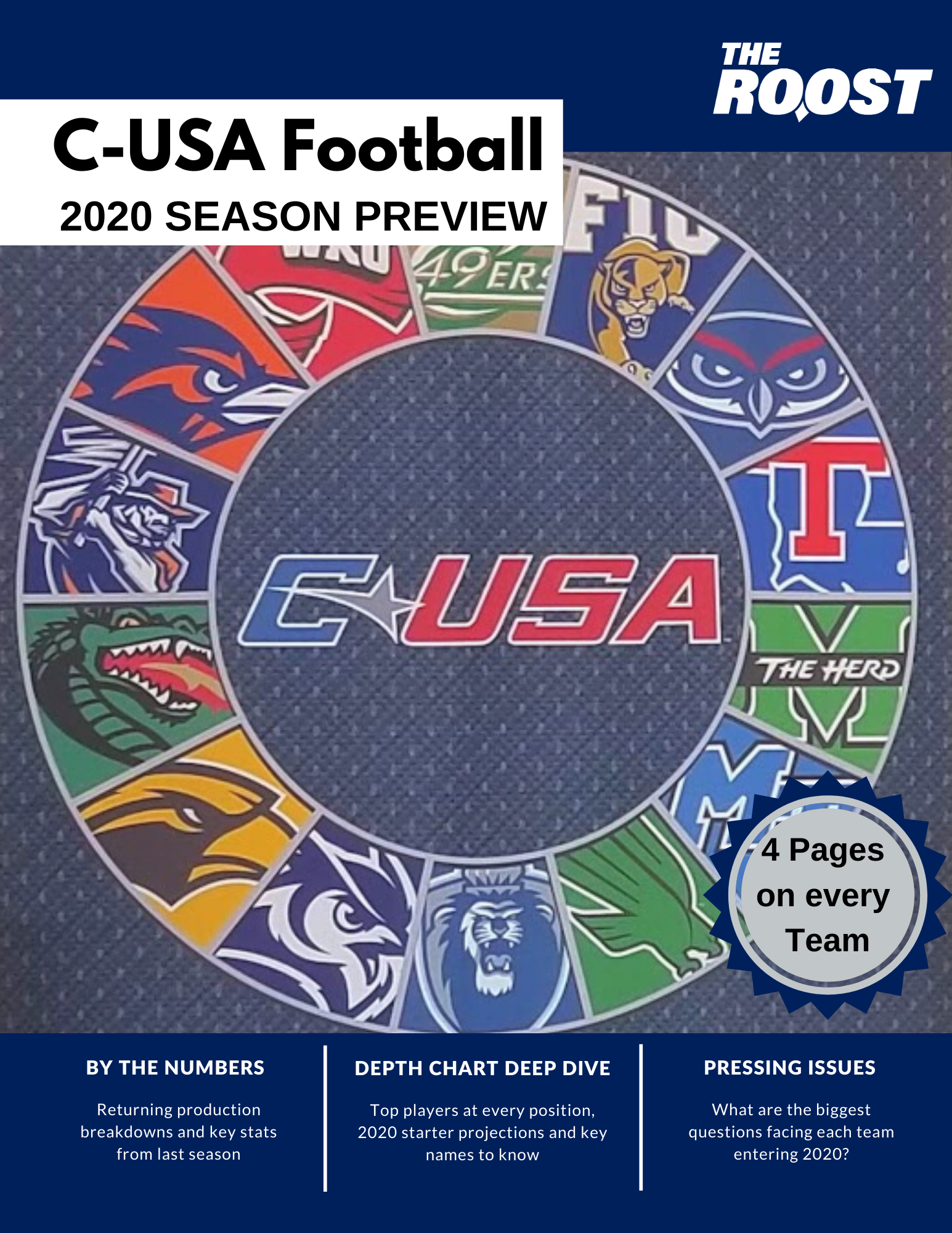 The complete contents of the Conference USA Preview are contained within the Rice Preview. This 72-page guide includes everything Conference USA fans need to know for the upcoming season. Every team in the conference has a four-page profile. These profiles including coaching notes, pressing questions and the major storylines each squad faces this season. It also includes roster breakdowns with profiles on the biggest incoming and outgoing players.
No preview would be complete without the numbers, and this one has those in bunches. Each team section includes Conference USA metrics, returning production notes and analysis as well as stat lines for every returning player. There's also a more detailed review of the conference's top returning players for each major statistic. And it's all at your fingertips rather than a dozen google searches away.
The Conference USA Preview omits the Rice-specific content like the position and player breakdowns, rising stars and more. Most Rice fans would prefer the Rice Preview whereas fans of other C-USA schools might prefer this version.
What are people saying about the Previews?
Don't just take our word for it. Here's what people are saying:
"The Roost's C-USA preview has been an indispensable resource for me as I make my preparations for this season."
"I just spent 30 minutes going through it, but barely skimmed the surface. It's a great way to learn the new players.
"I don't know any preview that could be more detailed than that."
"This is worth spending the money on. Best you will get for CUSA"
"I liked everything."
Want more?
You can always find additional Rice Football and Conference USA Football content on the website. If you enjoy the Preview and want to get further involved, consider supporting us on Patreon or check out The Roost Shop. Our subscribers get exclusive content ranging from recruiting and practice updates to special analysis. For starters, they got a copy of the Preview for free!


Subscribe on Patreon for exclusive Rice football recruiting updates, practice notes and more.
Recent Posts