Rice football visits Western Kentucky this week. Here's what Mike Bloomgren had to say about the matchup at hand and a few depth chart notes.
Head coach Mike Bloomgren and a pair of players met with the media for their customary weekly availability. They recapped the UTEP win and looked at the week ahead, detailing what they're expecting to see when Western Kentucky takes the field.
We touch on those items, then dig into the Rice football depth chart and what the team looks like heading into the weekend. First, the quotes:
Press Conference Quotes
"It was pretty cool for our team to get that win; to have the response that we needed and to do the things that we needed to do on a short week and make sure that we were prepared for that game on Thursday night. Our guys had to be pros. They had to take every walkthrough like it was a game rep and I'm really proud of the fact that they did that. After watching the film, I think we're doing a lot of good things for the team. There's no doubt about that." – Mike Bloomgren on the UTEP win

"When you talk about Austin Reed, you talk about a winner. He's a guy who won a Division II national title at West Florida. He's doing a great job. This offense looks a little different with him in there. His willingness to run and the fact that he really is a duel threat, so I think he brings a lot to the table. They're moving the sticks at a great rate and they're putting the ball in the box. Against a conference opponent, they scored 73 points. That's pretty crazy in 2022." – Mike Bloomgren on WKU quarterback Austin Reed
"The bottom line for our defense right now is that on first and second down, I think we're doing some really productive things. But, there's still too many times where we get someone in third-and-long and we're allowing them to move the sticks. That's something that we're continuing to work on. You look back at the last two games; to have a third-and-14 and a third-and-16 and they're converted on the ground, that's not what we want. We want to still rally and make those plays. In each of those examples, you either had somebody miss an assignment or get a hand on the ball carrier where it would have been well short of the first down marker and we didn't make the play. We just have to continue to trust and believe in what Coach Smith is presenting and we have to make the plays that are there for us and we'll be just fine. " – Mike Bloomgren on adjustments needed for the Rice defense
"We're resilient team and we can we can play through anything. We practice hard. The things that we go through in practice, the things we went through in the summer, it all comes into play now. When you got a tough game, a tight game, when it's close you got to look to the guy next to you to make a play. And I think we're capable of doing that and obviously you saw it on Thursday. Players are gonna make plays. That's what we do." – Defensive lineman Quent Titre on what he's learned about this team 
"I'm fine with it. I thrive in that siatuon, all the pressure. When you're up against the corner and you know you need somebody to make that play, that's my favorite situation because that's when you shine. That's when everybody sees it. I like being in that position, I think that's a fun position to be in." – Wide receiver Isaiah Esdale on his role in the offense 
Depth Chart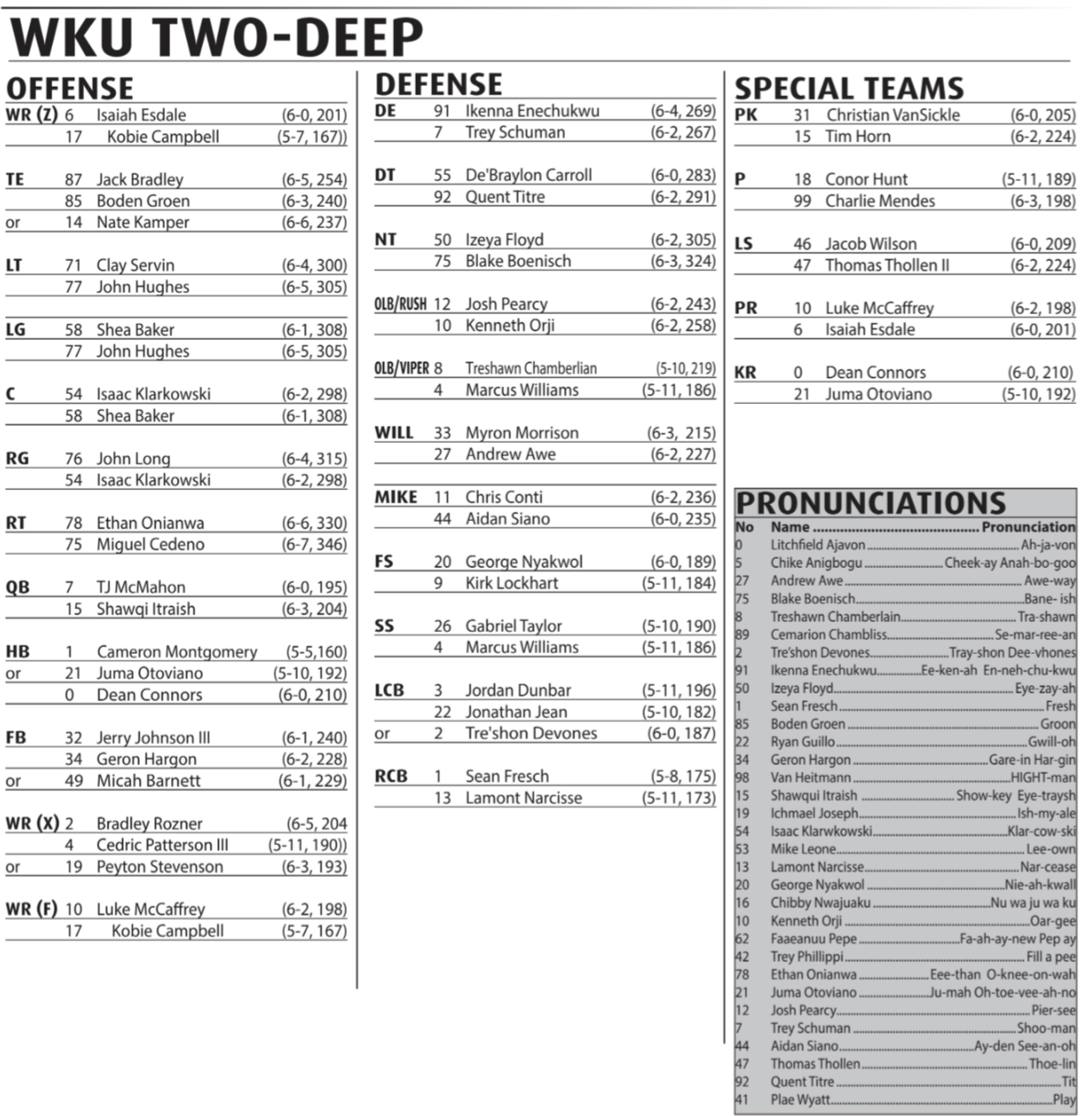 Depth Chart Notes
The only changes to the depth chart this week appear to be procedural. The offensive line is now listed as they started the game against UTEP, with Isaac Klarkowksi returning to center and Shea Baker sliding over to left guard in place of John Hughes. The only other adjustment is the removal of Ari Broussard, who has missed the past two games with injuries. It'll be Juma Otoviano and Cameron Montgomery atop the depth chart this week as expected.
Punt return is the other change. Luke McCaffrey was given a shot last week, but he fumbled. The next man up will be Isaiah Esdale. The WVU transfer has worked at punt return throughout the season, but hasn't been tasked with the assignment in a game just yet. That could change on Saturday.
Some questions remain as to the availability of others currently listed on the depth chart that did not play in prior weeks, namely safety George Nyakwol and receiver Cedric Patterson. We'll have more updates on both players and their projected availability in our practice notes later in the week (available to our subscribers).

Subscribe on Patreon for exclusive Rice football recruiting updates, practice notes and more.
Recent Posts