The first official depth chart of the 2020 Rice Football season has been released. Given the injuries and uncertainties, there's a lot to unpack.
We've reach the end of fall camp and the beginning of Week 1 prep for Rice football. On Monday the Owls released their first depth chart for the 2020 season. Some positions aligned perfectly with expectations: Mike Collins is the QB1. Others provided more intrigue.
Practice updates reserved for subscribers. Sign in to see this content or visit our Patreon page.
Typically the weekly depth chart doesn't come out until Tuesday when Rice will hold its weekly press conferences. Those came out a bit earlier than expected this week with everything going virtual. To that end, subscribers will want to stay tuned to practice reports later this week to see who will be in and out when game day arrives.
Here's how Rice football will line up against Middle Tennessee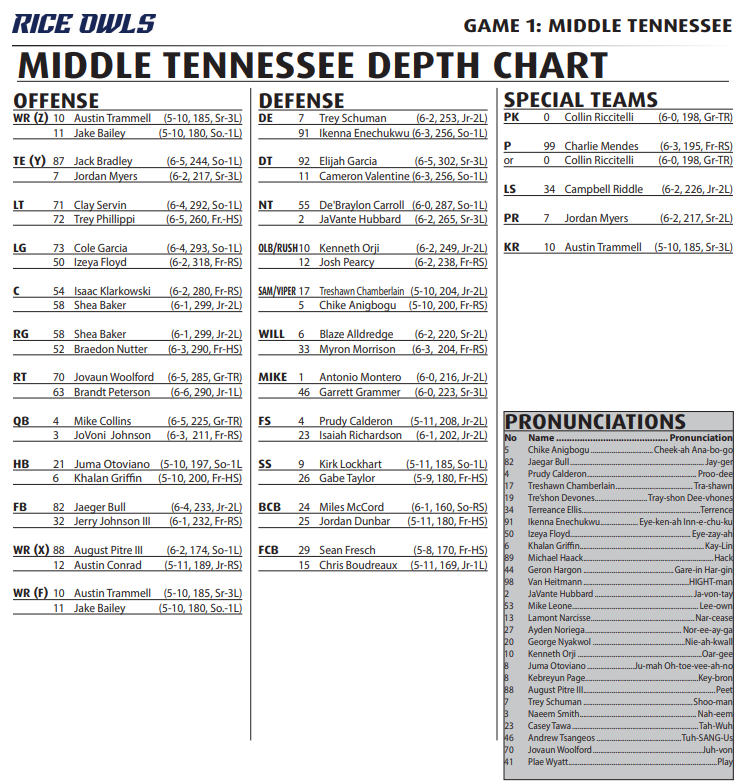 Expected results
Mike Collins is the Owls starting quarterback
This was never really in doubt during fall camp. Head coach Mike Bloomgren made it official last week. Now it's been published in ink with no OR designation. Mike Collins will be the guy against Middle Tennessee. The third string man, if it had been listed, would have been Wiley Green, who started the Owls' opener last season. That's a pretty solid quarterback room after a few years of flux.
Surprises
Fullback
Brendan Suckley hasn't been spotted so far during camp, so I wasn't expecting him to be on the depth chart against Middle Tennessee. Brian Hibbard, who had taken reps in his place, was out last week as well. That left Jerry Johnson working with the ones. The move to insert Jaeger Bull is a surprise to be sure, but his skillset as a blocker and h-back type players makes the move a reasonable one.

Subscribe on Patreon for exclusive Rice football recruiting updates, practice notes and more. React to this story on our forum.
Recent Posts