Only a sophomore, Rice football passer Wiley Green has emerged as a team leader as he grows into his own shoes as a Division 1 quarterback.
A lot can change in a year. That's true of life, and even more so true of college football. When Rice began fall camp in 2018 Wiley Green was the scout team quarterback. Juma Otoviano was his running back. Almost five months later, that duo was largely responsible for the first conference win of the Mike Bloomgren era.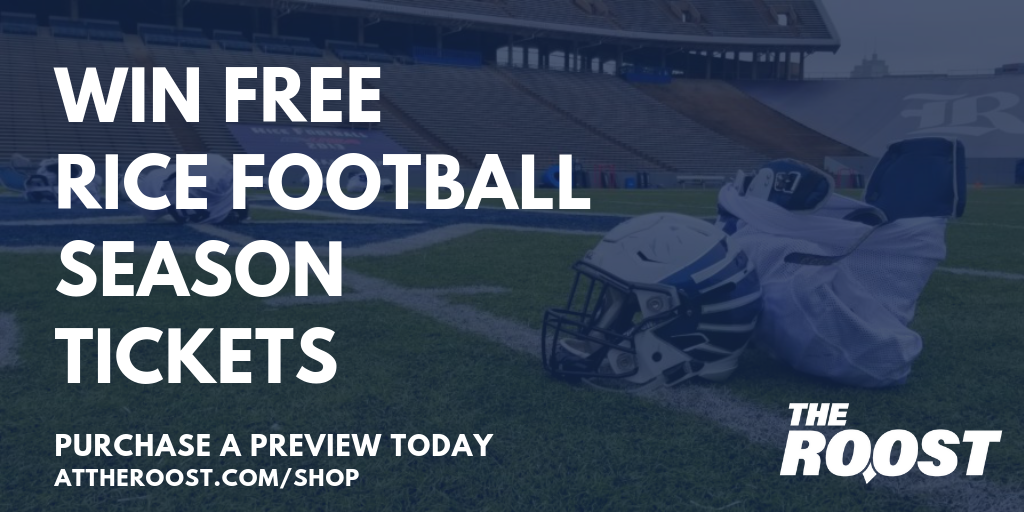 Green still hasn't fully grasped the whirlwind that has been his last 12 months. The redshirt freshman is in line to be named the Owls' starting quarterback for the 2019 season, a title which he feels he's steadily working toward the entire time.
"The best way of knowing that you've learned is being able to teach," Green said. "I think that was a big step forward for me, really taking in that leadership role and being able to teach others." Those others include incoming grad transfer Tom Stewart and true freshman Jovoni Johnson. Both players have had to go through the same learning curve Green experienced last season.
For Green, he had the benefit of a mentor in the form of Vanderbilt transfer Shawn Stankavage. "[Shawn taught me a lot, you know. How to handle being a Division 1 quarterback," Green said as he looked back at his freshman season, "He's been one of those guys I've leaned on. He's been a leader on and off the field for me and he's been one of those guys I can kind of look for as a mentor."
Green is no senior. He can hardly believe his four games of experience make him one of the more experienced second-year players. But it's that transition — from rookie to leader — which has set Green apart in the quarterback room. With Stankavage out of eligibility, Green took on the leadership role and ran with it. He's been working hard through the spring and into the fall. The results have been encouraging.
Never one to be too braggadocious, Green tends to downplay the tremendous progress he's made in such a short amount of time. "We're not where we need to be," he says, "but we're definitely taking steps in the right direction to get there."
That direction will be put to the tests in less than two weeks when Rice visits Army. The trip to West Point marks the start of the 2019 season. The young vet will be tasked with leading in one of the most challenging environments he's ever played in. Green isn't worried; his nerves seldom show. He'll prepare well and attack it like he's attacked every game he's ever played.
"We're building something special here and every single person in this room believes it," Green declared. "That's what's really going to propel us forward and really surprised some people this year." He hopes, as do the Rice faithful, that surprise starts at Army.

Subscribe on Patreon for exclusive Rice football recruiting updates, practice notes and more. React to this story on our forum.
Recent Posts