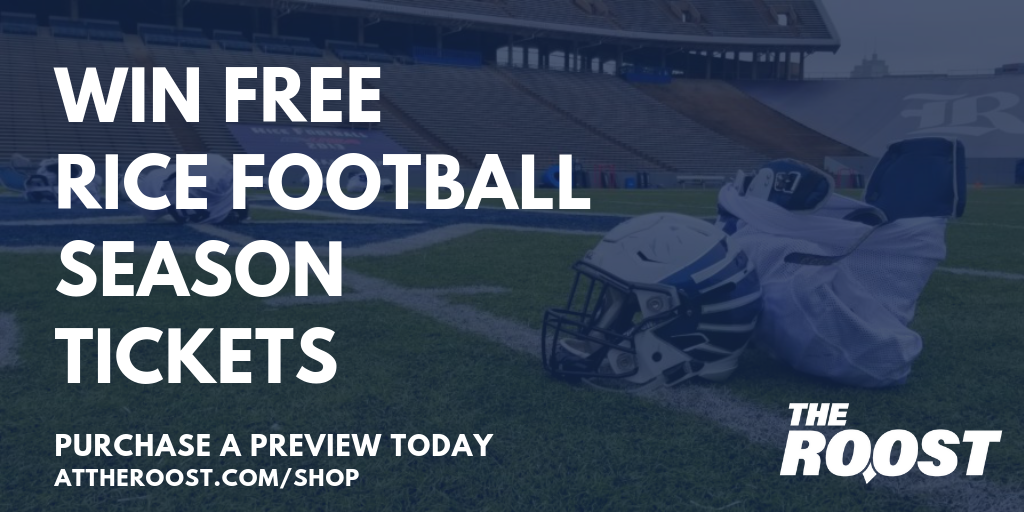 We're one week away from the Rice Football season opener against Army. Today marks the Owls' big push to meet their annual season ticket sales goal in one day. In light of that initiative (and our love for all things Owls), The Roost is giving away one set of Rice Football season tickets FOR FREE to one lucky person who purchases a copy of The Roost's 2019 Rice Football Season Preview TODAY (August 23).
What's included?
143 pages
Insight on every single player on the Rice roster
Projected depth charts
Breakout freshmen to watch
Position profiles with depth chart projections
Exclusive feature with head coach Mike Bloomgren on the progress of "The Process" at South Main
Deep dives on every Rice opponent and all 14 CUSA teams supported by plugged-in local experts
Returning statistical leaders for every CUSA team
Detailed Rice and Conference USA schedules
Computer, mobile and tablet-accessible
Check out a sample here
What people are saying
We surveyed people who had already purchased the Preview. Here's what they liked most…
"Roster breakdown by position – this was an excellent guide to understanding where the team is and who are newcomers to watch."
"I loved the breakdown of all the teams. It gave me a great view of what Conference USA will be like this season."
"Overall loved the complete review of the Owls and their chances for 2019"
"Player profile write-ups"
"The information on the individual players and depth chart"
"It was awesome. Everything!"
"It is awesome. Tons of information."
"Good insights and data"
"All of it!"

Subscribe on Patreon for exclusive Rice football recruiting updates, practice notes and more.
Recent Posts