Five position battles have been a focal point of Rice Football fall camp. Here's where the Owls stand at those key spots after the first week of camp.
1. Wide receiver
The suspension of Aaron Cephus left Rice in a tough spot at the wide receiver position. Austin Trammell will push 100 targets, but the rest of the depth chart is going to be asked to step up. August Pitre and Brad Rozner started camp with the first team.
When the team goes to split squad practice, freshman Zane Knipe works with the veterans. Jake Bailey is with the second team at the moment, but he stands out as the best player at his position in that group.
Projected starters against Army as of today: Trammell, Rozner, Pitre
2. Offensive line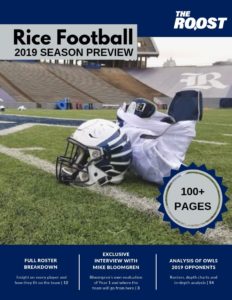 Three grad transfers in the mix make the offensive line one of the most competitive races of camp. The only position that is definitively set in stone is left tackle, where Clay Servin returns as the team's top starter. Nick Leverett, Brian Chaffin and Cole Garcia are fighting it out for the two interior guard spots with Shea Baker the presumptive favorite to stick at center.
Learn more about each of these challengers by reading their player profiles in our 2019 Rice Football Season Preview, on sale now.
The most competitive race will come at right tackle where Uzoma Osuji and Ouachita Baptist transfer Justin Gooseberry are dueling for the starting role.
Projected starters against Army as of today: From left to right – Servin, Leverett, Baker, Garcia, Gooseberry
3. Quarterback
Wiley Green has had the inside track on the starting job in 2019 since the end of last season. He performed reasonably well in the spring and has continued to progress through fall camp. But, just like last year, the Owls brought in a grad transfer at the position to push their incumbent starter.
Through the first week of camp, it's looking like Tom Stewart is the real deal. It was never a given that Green would be the de facto starter against Army, but recent developments make me believe this competition is going to very real and quite contentious. Stewart's progress, plus the arrival of Jovoni Johnson could see this race draw out til the final days of camp.
Projected starters against Army as of today: Green
4. Special Teams
While the rest of the aforementioned position battles project to be close, each of them features some sort of frontrunner rather by way of seniority or familiarity with the Owls' schemes. Two of the most prominent special teams jobs are wide open.
Adam Nunez and Chris Barnes have both had strong fall camps at punter. Nunez was a multi-year starter at TCU; Barnes sat behind current-NFLer Jack Fox. There's probably not a wrong answer here. The kicker spot features more uncertainty. Will Harrison has experience but wasn't accurate this spring. Incoming freshman Zach Hoban has an impressive highlight reel, but he's never produced at the college level.
Projected starters against Army as of today: Punter – Adam Nunez, Kicker – Zach Hoban
5. Corner
The emergence of Andrew Bird late last season was huge for the Owls' secondary which lost several veterans this offseason. Back alongside Bird are D'Angelo Ellis and Tyrae Thornton, both of whom have had their ups and downs. One of the two is going to start opposite Bird out the gate. Who that will be remains to be seen. This is one of the spots where we could see freshmen emerge early to play meaningful snaps.
Projected starters against Army as of today: Bird, Ellis
All practice updates will be available for all to see during fall camp. Once the regular season starts they'll be reserved for members. Becoming a member is 100% FREE and takes 30 seconds. You can register here.

Subscribe on Patreon for exclusive Rice football recruiting updates, practice notes and more.
Recent Posts