Several veteran players are drawing rave reviews at Rice Football fall camp, but here are a few freshmen who have thrust their names into the mix.
The Owls were already a young football team before the 2019 Rice Football recruiting class arrived on campus. A week into fall camp, those new additions are turning heads. Zane Knipe is already working with the first team, but there are several other freshmen making significant noise.
Defensive line
De'Braylon Carroll is the real deal. There hasn't been a practice that's gone by without him turning heads. The defensive MVP of the 8-6A District of high school football, this Duncanville star has proven himself to be the real deal. It's going to be tough for any freshmen to earn starting jobs before nonconference play through. Carroll might just be the exceptions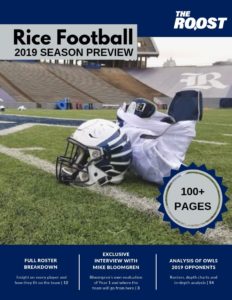 If Carroll wasn't dominating to the degree he was, his partner in the trenches, Izeya Floyd, would be garnering all the accolades. He's been a welcomed physical presence on the inside. It's evident he and Carroll are going to be regulars in the rotation this season.
Secondary
The safety spots are spoken for. George Nyakwol won't leave the field much this season. The winner of a close battle between Prudy Calderon and Naeem Smith will give Rice another strong option in the defensive backfield.
Corner is a different story. Andrew Bird has been rock steady on one side, but the rest of the depth chart has been up and down. Freshman Treshone Devones, Josh Landrum and Kirk Lockhart have all impressed early. Winning a starting role before midseason would be a stretch, but each of those three will be in the mix for playing time.
Offensive line and tight end
Rice is relatively deep along the o-line and at tight end, but that hasn't stopped some younger players from flashing. Regan Riddle has done well for himself. He faces an extremely crowded depth chart along the interior of the line but could see some playing time as the "ogre" sixth man. He'll be a chief contender to start in 2020.
Likewise, Jack Bradley is entering the conversation at tight end. He's drawing buzz as one of the more well-rounded players the Owls have at that position. He's another name to keep an eye on.
All practice updates will be available for all to see during fall camp. Once the regular season starts they'll be reserved for members. Becoming a member is 100% FREE and takes 30 seconds. You can register here.

Subscribe on Patreon for exclusive Rice football recruiting updates, practice notes and more.
Recent Posts