Rice football hosts Texas Southern this week. Here's what Mike Bloomgren had to say about the matchup at hand and a few depth chart notes.
Head coach Mike Bloomgren and a set of players met with the media for their customary weekly availability. They recapped last week's game and looked ahead at their upcoming matchup with Texas Southern.
We touch on those items, then dig into the Rice football depth chart and what the team looks like heading into the weekend. First, the quotes:
Press Conference Quotes
"We were our worst enemy, and we know its always going to be about us, but it was very clear in the film that we made mistakes. We committed penalties that put us in tough situations. No surprises there, but it was very evident that we weren't playing the same way with the same focus that we were in the first half." – Mike Bloomgren on areas to improve after Houston

"I told our guys that as you look at that film of them playing Toledo last week that's not the team we're going to see. We're going to see a team that's incredibly fired up to be playing in Rice Stadium in Houston, Texas and every one of them believes they should be sitting in these team meeting room chairs. They believe they're good enough and should have had the opportunity that our players have and they're going to try to prove it. The fact of the matter is several of those guys have been on FBS rosters before and frankly some of them are good enough to be on a team like this." – Mike Bloomgren on preparing to play Texas Southern 

"It's a kill or be killed mentality. That's how I live my life and how this whole team lives their lives on [short yardage and goal line]. We do the meeting and we always play Stone Cold Steven Austin before we install it. It gets the mood going. Anytime we line up, we know they did not do a whole practice just for that scenario and we know that anyone that lines up, we're going to beat them." – Center Braedon Nutter on the teams' success in short yardage situations
"I think in the first game I was just working the gears a little bit, getting back to me. I think I needed to settle down and get back to me and know who I am and play with that supreme confidence as [corners coach Jeremy] Modkins always tells us corners… I would say I had a decent game. I think I can do way better and I think I will put that on display these next games coming up." – Corner Sean Fresch on his growth this year
Depth Chart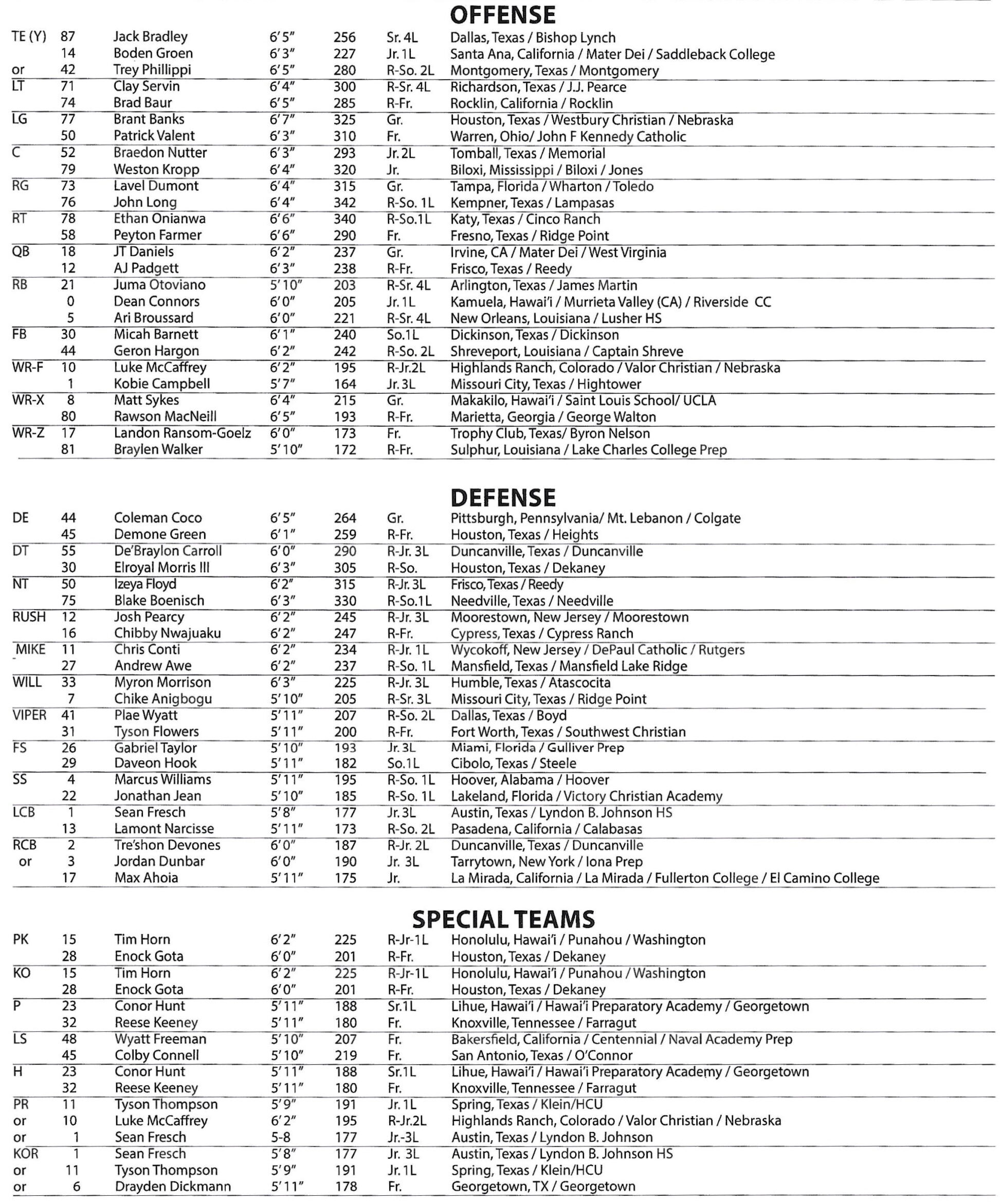 Depth Chart Notes
Just like last week, there were no changes to the official depth chart. That marks three straight games with more or less the same two-deep, a nod to how fortunate the Owls have been with injuries and how well the team has played as a whole. There hasn't been the need for too many "promotions" and "demotions" although we will hit some key updates with playing time and rotations later this week.

Subscribe on Patreon for exclusive Rice football recruiting updates, practice notes and more.
Recent Posts