Rice football visits Texas this week. Here's what Mike Bloomgren had to say about the matchup at hand and a few depth chart notes.
Head coach Mike Bloomgren and a set of players met with the media for their customary weekly availability. They discussed camp thus far and previewed the week ahead, detailing what they're expecting to see when Texas takes the field.
We touch on those items, then dig into the Rice football depth chart and what the team looks like heading into the weekend. First, the quotes:
Press Conference Quotes
"We have an awesome opportunity this week, heading to play the University of Texas. It's a great challenge for our football team. We understand how talented they are. We've been preparing all offseason for them. I think physically and mentally, we're a stronger football team and that's going to give us our best chance as we go out there." – Mike Bloomgren on playing Texas

"What does it take to finish? It's us deciding, making that decision to finish and knowing that we are good enough. That's one thing we've talked about. We have enough talent and we know it's going to be about what we do, how we perform. That's a talented group on the other sideline. There's no doubt. We're going to study their scheme. We're gunna have great answers. But at the end of the day it's going to be about how we execute and how we perform… I imagine if we fight the way we're capable of and play the way we're capable of, we're going to have those opportunities again and now it's about taking that next step as a program and finishing those things." – Mike Bloomgren on the what it will take to pull off an upset

"We're at the point now where we have twos that are going to play on purpose and they're going to play because we know it's going to be hot as Hades in Austin this weekend and we're going to rotate some people, but also because they've earned the right. They've earned the trust of their teammates and their coaches. So yeah, the depth is a big plus for our football team… The separation from our ones and twos at some positions is so miniscule that, once again, those guys are going to get the chance to play and in addition to that, they're going to be competing for the starting role every week of the season." – Mike Bloomgren on the depth of the team
""It's a great opportunity and it's always fun. It's one of the coolest stadiums there is. They get loud. They get rocking. They have a great time. It's a very good team. It's a great test to start the season…. It'll get loud on third downs. When you walk out, it'll feel crazy when you see 100 [thousand] or however many there will be, but when you're in the heat of the moment, you kind of forget it. It looks really cool. Take in the moment when you run out of the tunnel and appreciate getting the opportunity to do that – you know how many people dream of doing that – but when you're actually in the moment, you're not even going to notice it." – Quarterback JT Daniels on the environment in Austin
"Every rep is gold, from an experience standpoint. Being able to go through a whole season, being able to go through a spring ball, fall camp and another spring ball and this year, capping it off with another great month of training is so helpful… From a preparation standpoint, [I feel] better than I ever felt." – Wide receiver Luke McCaffrey on his confidence at the position 
"One of our focal points this year is consistency. I think we've done a great job being consistent with those six and seven guys. We've had good rotations during practice but our post-practice, our film study, instead of six or seven individual eyes we're trying to see the game through one pair of eyes. What the call is from JT or our center, Braedon Nutter, whatever the call is, we're living that call. We're trying to communicate, we're trying to block as a unit instead of five individuals." – Tackle Clay Servin on the progress of the offensive line 
Depth Chart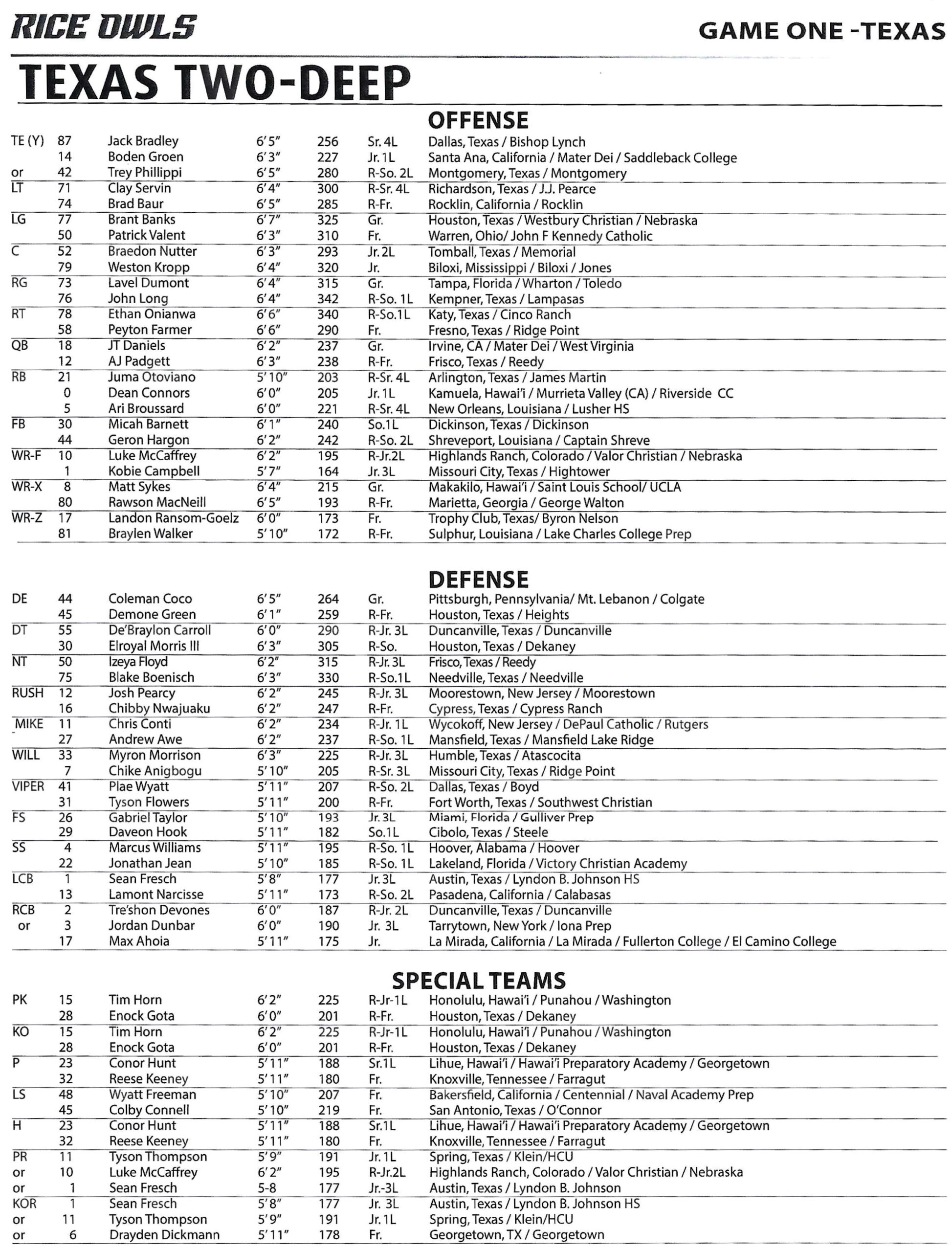 Depth Chart Notes
Rice football head coach Mike Bloomgren did note there was only one projected member of the two-deep that would not be available this coming weekend, backup offensive lineman Miguel Cedeno. He's expected to return to practice soon, and otherwise, the Owls are looking as healthy as they've been entering a season in quite some time.
As for the remainder of the depth chart, we'll have some further clarification on the last few position battles in our practice update coming later in the week. At first pass, there isn't much on this initial depth chart of the season that should surprise anyone. Landon Ransom secured his starting spot as was expected. Tyson Flowers has bumped up to second string after a strong finish to camp, replacing Shepherd Bowling on the two-deep.
An "OR" shared between Tre'shon Devones and Jordan Dunbar is curious, and represents a nod to Devones' impressive camp. He had a couple of interceptions, including a pick of JT Daniels, and has played well. We'll have a better feel for how much actual playing time that will translate to by the time we've gotten through practices this week.
On special teams, Tim Horn, Conor Hunt and Wyatt Freeman claimed victory in their respective position battles.

Subscribe on Patreon for exclusive Rice football recruiting updates, practice notes and more.
Recent Posts