The majority of the 2023 Rice Football Recruiting class will become signees during the Early Signing Period. Follow all the action here.
Like many others before it, the 2023 Rice Football recruiting class is shaking up to be a strong group. Rice has had three of its five highest-rated signing classes under Mike Bloomgren and they don't appear to be slowing down any time soon.
This live tracker will follow all the latest news and updates throughout the day, with some notes along the way on the class as it is finalized. If you're not a subscriber yet, here's your chance.
Which newcomers will make sizable impacts as soon as they arrive on campus like Isaiah Esdale, Chris Conti and others did this past fall? This class has plenty of talent which could find its way to the field soon.
Subscriber content.

Please

login

to see the full post or visit our Patreon page.
Now, let's dig into the latest from the Early Signing Period, below.
Updates
9:20 p.m.
Historic Rice football recruiting class to send Owls "soaring to new heights"
5:00 p.m.
What's next? Stay tuned later this evening for a writeup on the historic haul. In the next few days there will also be detailed position-by-position breakdowns of the entire class plus some coaches notes on the new additions.
We've also recorded a brief microcast on the Daniels addition for our All-American and Booster level patrons.
4:55 p.m.
It's official. The rest of Wednesday's haul is official and as follows:
West Virginia transfer quarterback JT Daniels is in.
Nassau CC transfer defensive lineman Jordan Campbell is in.
Safety Ashton Ojiaku is in
Linebacker Ty Morris is in
Corner AJ Stephens is in.
Corner Jamarion Clark is in.
Southwestern transfer tight end Ethan Powell is in.
1:58 p.m.
Linebacker Beau Barton is in.
1:21 p.m.
Defensive lineman Coleman Coco is in.
12:55 p.m.
Defensive end Chris Clark is in.
12:42 p.m.
New 2024 offers are starting to come in. We won't' track them all here, but you can always find them and the latest updates on the 2023 signees/commits on the recruiting tracker.
12:28 p.m.
Finally, the first defender is in the fold. Not a fan of the Owls sitting on these signatures this long. Anyhow, defensive end Joseph Mutombo is in.
12:13 p.m.
Wide receiver Drayden Dickmann is in.
11:28 a.m.
Wide receiver Justin Williams is in.
11:01 a.m.
Wide receiver Landon Ransom is in.
10:34 a.m.
Quarterback Chase Jenkins is in.
10:12 a.m.
A quick recap. Nine official announcements so far.
OL Luke Needham
OL Phillip Gallegos
RB Daelen Alexander
OL Brant Banks [Nebraska]
OL Peyton Farmer
TE Matt Hall [Truman State]
OL Nate Bledsoe
OL Patrick Valent
TE James Falk
10:06 a.m.
The sixth (and likely final) offensive lineman in the 2023 class is official. Luke Needham is in.
9:53 a.m.
Offensive lineman Phillip Gallegos is in.
9:45 a.m.
Rice is clearly spacing out announcements today, but there are already a few commits that have publically announced they've signed including WR Landon Ransom and QB Chase Jenkins.
9:32 a.m.
Running back Daelen Alexander is in.
9:07 a.m.
Nebraska transfer offensive lineman Brant Banks is in.
8:47 a.m.
Another offensive lineman is official. Peyton Farmer is in.
8:36 a.m.
How on brand is this? Of the first four announced additions to the 2023 class, two are offensive linemen and two are tight ends.
8:32 a.m.
Truman State tight end Matt Hall is in.
8:14 a.m.
Offensive lineman Nate Bledsoe is in.
7:48 a.m.
Offensive lineman Patrick Valent is in.
7:13 a.m.
The first letter of intent is in! TE James Falk is official.
6:48 a.m.
While we wait for the presses to warm up, one tidbit to pass along. Rice hasn't signed a recruiting class better than 80th in the country in program history. The Owls' current best, from a national rankings perspective, was the No. 82 class in 2009. Rice started the day with the No. 75 class in the nation.
6:36 a.m.
As is typically the case, the majority of the incoming Owls are based in the central time zone. The class has no Florida commits as of yet, that's usually where the fireworks have started in recent signing days. No official announcements as of yet, but 7:00 central in Texas is ticking closer and there's going to be a lot happening then. Hang on.
Wednesday morning – 5:55 a.m.
National letters of intent can start arriving from the Eastern time zone in just a few minutes. It's time to get this show on the road.
Tuesday night
The college football world was fixated on Rice football on Tuesday night. On the eve of the early signing period, the Owls landed former 5-star and national championship-winning quarterback JT Daniels.
Tuesday afternoon
The initial group of December signees for the 2022 Rice Football recruiting class was a bit on the smaller side given the initial uncertainty surrounding the COVID-19 waivers and their impact on future rosters. That's not the case this time around. While there are a few spots remaining for additional Transfer Portal candidates, Rice has brought in a robust group they will sign in December.
And once again, as has been the case in year past, several Rice signees have yet to receive a 247 Sports rating. Even still, the 2023 Rice Football Recruiting class has already come in strong. Here's where the group stands as of Tuesday evening. Players are eligible to fax in their signatures starting at 7:00 a.m. local time.
Conference USA Recruiting ranks on the eve of the Early Signing Period.@RiceFootball checks in at No. 3. #Owl2N3st #GoOwls pic.twitter.com/mMivo0Fi0s

— The Roost (@AtTheRoost) December 21, 2022
Rice has the No. 3 class in Conference USA entering Wednesday morning. When accounting for the conference moves upcoming in 2023, Rice football owns the No. 7 class among all 2023 members of the AAC. The Owls were as high as fourth in the new AAC as recently as Monday evening. There's a lot to watch as the dust settles here.
Make sure to stay tuned on Twitter and follow our live blog here during the day for updates. Get the latest list of the 2023 Rice Football Recruiting commits by clicking the tracker below.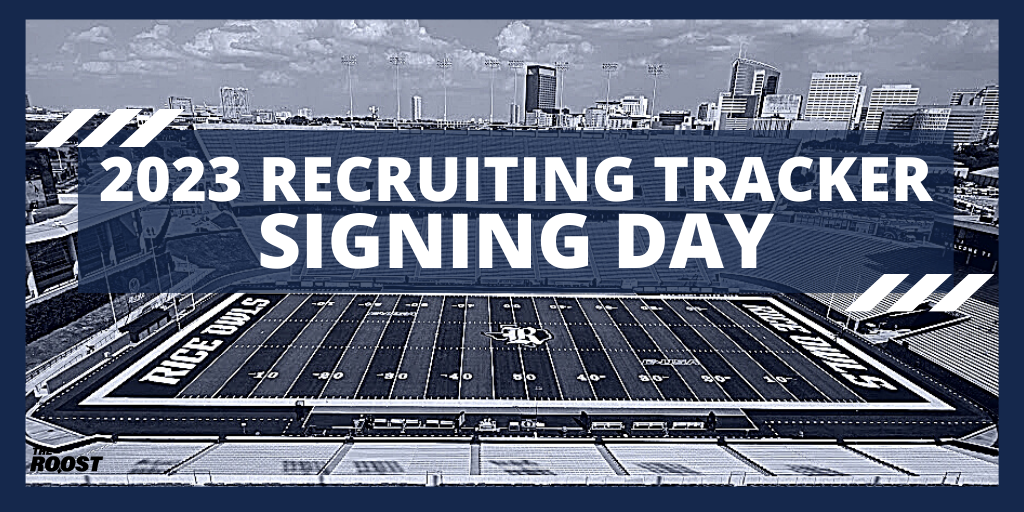 Subscribe on Patreon for exclusive Rice football recruiting updates, practice notes and more.
Recent Posts