On July 1, Rice football and the entirety of Rice Athletics will officially move to the American. Can you build your best Conference USA-era offense?
This exercise has been played out across all sorts of sports and combinations, but it only seemed fitting to have a Rice football version to mull over as the summer months arrive. The game is relatively simple and straight forward: given your allotted $15 budget, build your best offense!
For example, if you want to spend up at quarterback and nab Chase Clement it's not going to be possible to get Jarett Dillard AND James Casey on your squad. Conversely, if you're going to ride with Mike Collins as your passer, you could probably afford to grab a few high-priced pass catchers for him to throw to. Which is the best option? That's for you to decide!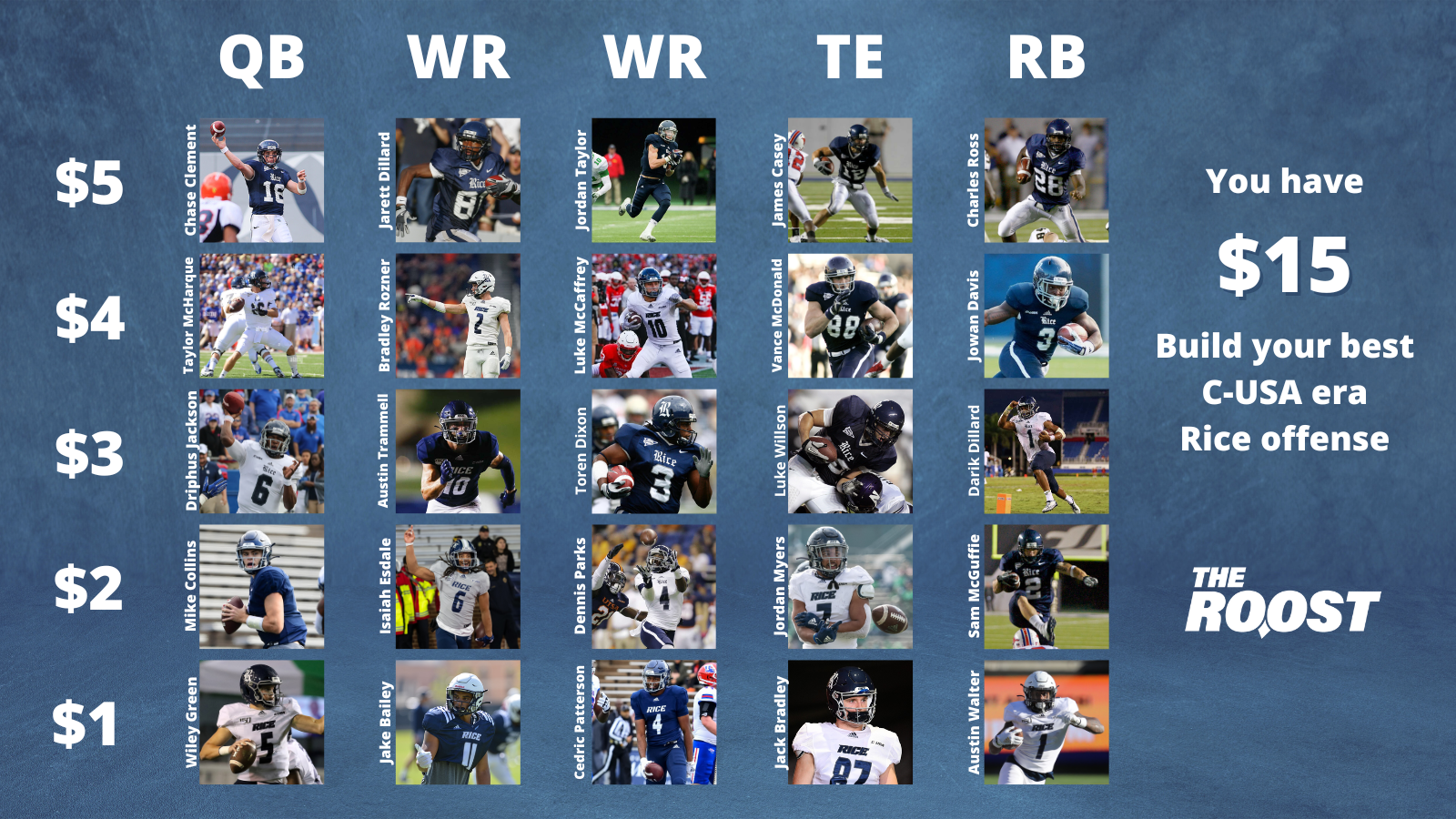 We'll be sharing this on our socials and with our Patreon subscribers. Let us know which combination you'd choose and who you absolutely must get into your lineup at all costs.
Quarterback
$5 – Chase Clement
$4 – Taylor McHargue
$3 – Driphus Jackson
$2 – Mike Collins
$1 – Wiley Green
Wide Receiver 1
$5 – Jarett Dillard
$4 – Bradley Rozner
$3 – Austin Trammell
$2 – Isaiah Esdale
$1 – Jake Bailey
Wide Receiver 2
$5 – Jordan Taylor
$4 – Luke McCaffrey
$3 – Toren Dixon
$2 – Dennis Parks
$1 – Cedric Patterson
Tight End
$5 – James Casey
$4 – Vance McDonald
$3 – Luke Willson
$2 – Jordan Myers
$1 – Jack Bradley
Running Back
$5 – Charles Ross
$4 – Jowan Davis
$3 – Darik Dillard
$2 – Sam McGuffie
$1 – Austin Walter

Subscribe on Patreon for exclusive Rice football recruiting updates, practice notes and more.
Recent Posts