The 2021 Rice Football season is around the corner. If you're tracking with the Owls or Conference USA on Twitter, here are a handful of accounts you'll want to follow.
The Roost
The Roost
The Roost Podcast
The Roost Podcast co-host Carter Spires
---
University-sponsored and coaching staff
Rice Athletics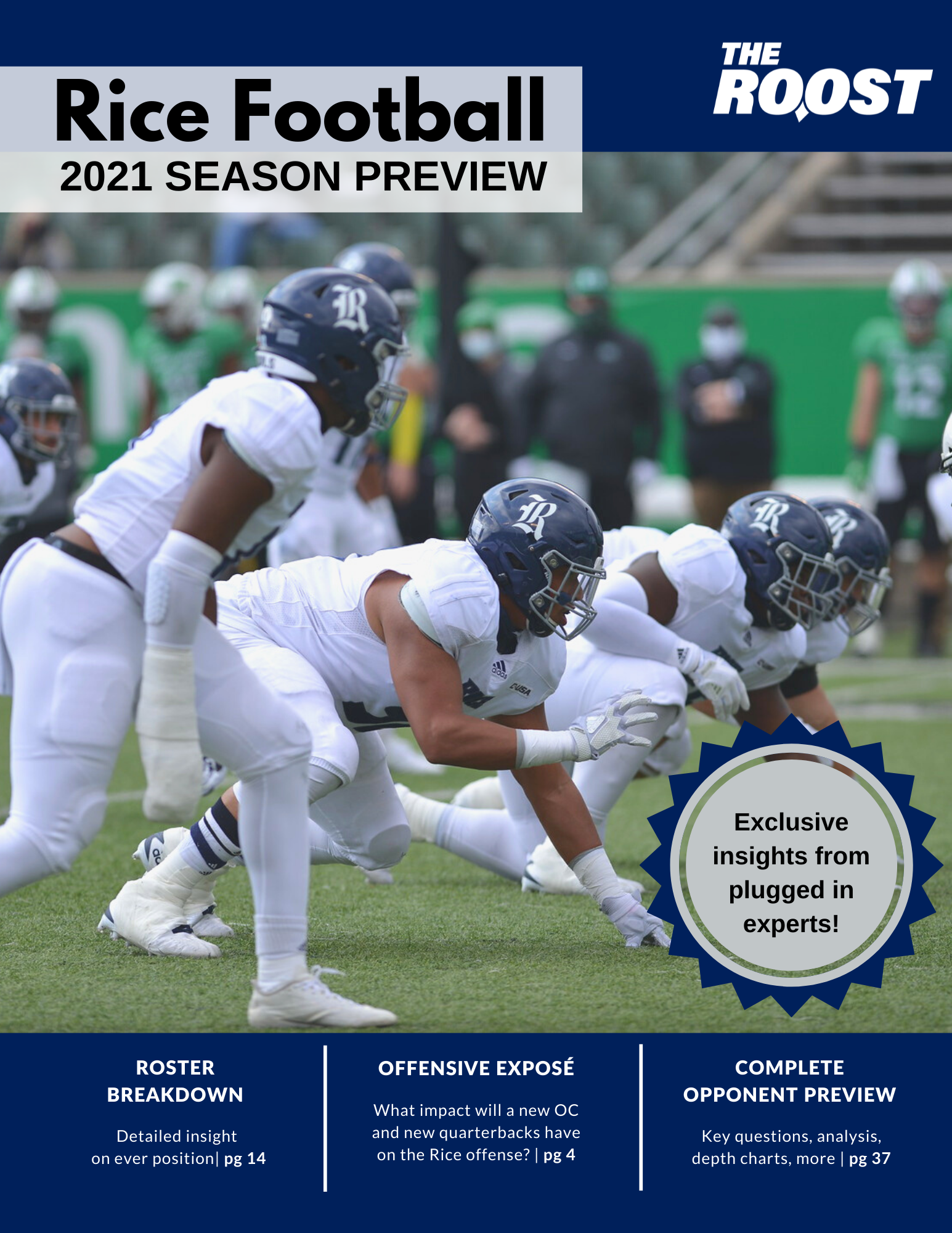 Rice Football
Rice Football Recruiting
Rice Owls Equipment
Football Staff
Mike Bloomgren – Head coach
Marques Tuiasosopo – OC, Quarterbacks
Mike Kershaw – Wide receivers
Jim Jackson – Tight ends
Sanders Davis – Offensive line
Robbie Picazo – Running backs
Cedric Calhoun – Defensive line
Collin Spencer – Safeties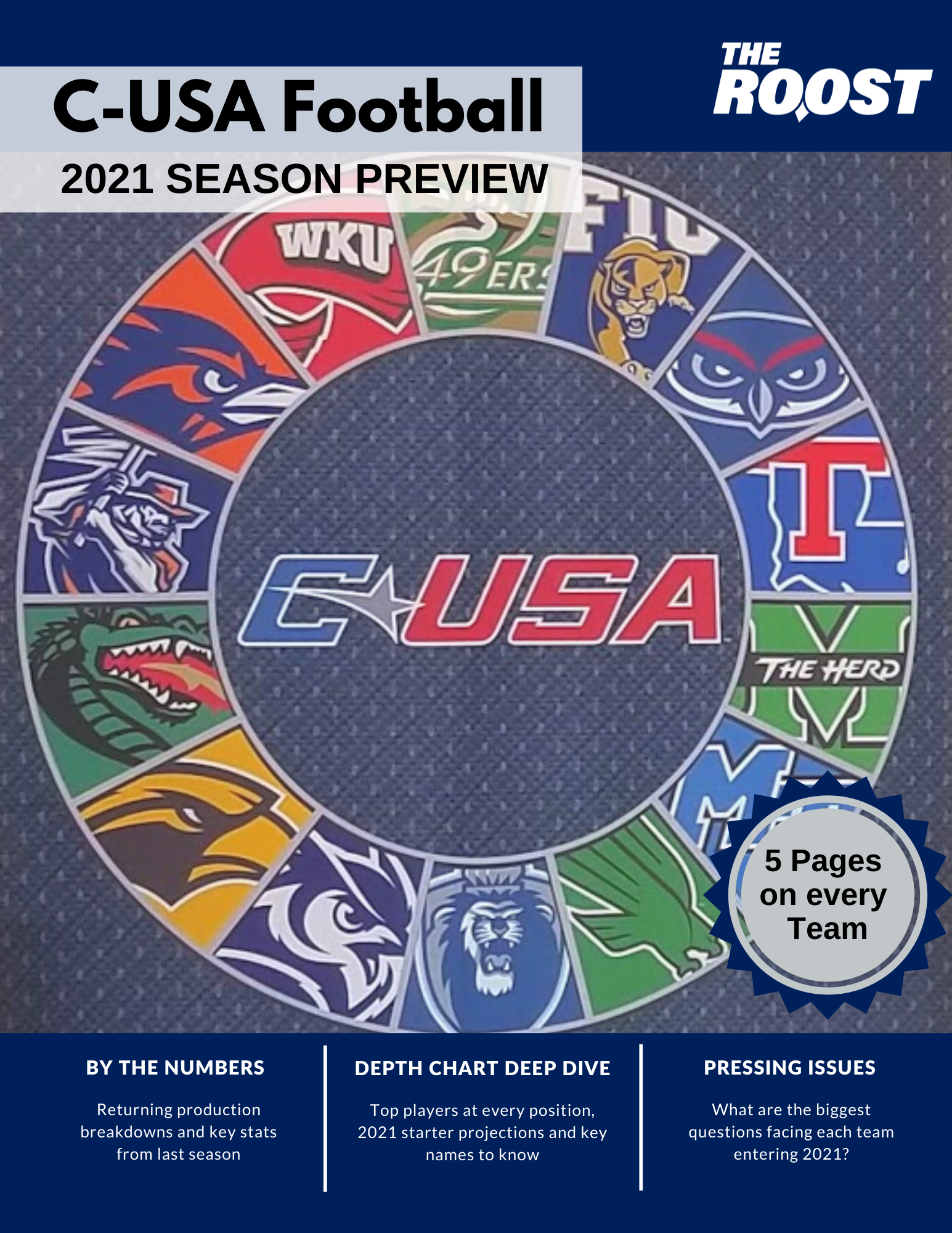 Gerard Wilcher – Cornerbacks
Brian Smith – DC, Linebackers
Chris Monfiletto – Special teams
Alex Brown – Director of Recruiting
---
Conference USA
CUSA | @CUSAbbs, @TheG5Beat, @FCUSARefs, @cusaReport, @CUSA_Curtain
Southern Miss | @ToTheTopTalk, @USMVoice, @Bumperjbailey, @jamie_arrington, @Robinson_Glynn, @GldnEaglePride
Western Kentucky | @MoonShineTD, @MSTD_Podcast, @Moffstradamus, @TheTowelRackWKU, @100MilesOfHate
FAU | @FAU_Owls_Nest, @Owls247, @MarinelliShane, @JackWhidden3, @TheKevinFielder, @Florida_Owl, @ShulaBowlPod, @FAUkickerpunter
FIU | @EricCHenry_, @chiapanther, @ShulaBowlPod
Louisiana Tech | @BleedTechBlue, @LaTechReport, @gotechplsdntdie, @tannerspearman, @latechsportsctl
UAB | @DudleyDoWriteAL, @UABDailyDragon, @BlazerTalk, @DragonsDenEFEL, @Charmillionaire, @UABSlant, @johncduncan 

Old Dominion |  @ReeseBecker, @DougRipleyODU, @Harry_MiniumODU, @austinmpriest
North Texas | @meangreennation, @BrettVito, @gomeangreen, @MeanGreen247
UTSA | @JaredUTSA, @RivalsJavi, @AlamoAudible, @MeepMeepNation, @RowdyTalk, @UTSAInsiders, @StephenWhit89, @GregLuca
Marshall | @MoonShineTD, @MSTD_Podcast, @HerdNation, @Trace_Johnson94, @RWithTheHerd
MTSU | @GoMiddle, @GoMiddle_Matt, @100MilesOfHate
UTEP | @adrian_broaddus, @LouTEPminer, @BretBloomquist, @FQUTEP
Charlotte | @hunter_bailey45, @_agent49, @TheFirst49, @DavidScott14
Have any other recommendations? There's plenty of more people doing good work on social media, whether that be on Twitter or somewhere else. Leave other accounts folks should follow in the comments.

Subscribe on Patreon for exclusive Rice football recruiting updates, practice notes and more.
Recent Posts