Rice football is eager to get back on the field this weekend and face UTEP. Here are the latest practice notes and press conference quotes.
It was tough sledding for Rice football in Denton, falling to 1-2 on the season with the disappointing road loss. The team returns home to Rice Stadium this week to face UTEP, which enters the game 3-4 with a chance to return to .500 by the end of November. The Owls would like to prevent them from getting there a climb back to .500 themselves.
Subscriber content.

Please

login

to see the full post or visit our Patreon page.
The team had some thoughts to share on last week. We've selected a few quotes from the Owls' midweek press conference. Then we've got a few more updates on what's in store for the Owls in the coming days and weeks.
Press Conference Quotes
"They played a very, very physical brand of football. They imposed their will on us in all areas. We had a couple of turnovers that were really, really costly and absolutely affected the outcome of the game, and we've got to play better. I don't think it's that we got to play harder, we've got to play better. We've got to play more disciplined. And we got to be better with our techniques." – Mike Bloomgren on the North Texas game
"Obviously we started really fast, just like we wanted to — we were firing on all cylinders. We had multiple turnovers, which obviously that's never good, we'll never win like that so that's obviously the things we need to clean up the most. We got to keep the ball off the turf. And then we got to hit our shots when we take them. And we did a pretty good job at it but we have to keep working, keep finding that connection, keep getting that rhythm and we will get those will go our way." – WR Jake Bailey on the offensive performance vs North Texas
"We've done a pretty good job stopping the run, especially getting off blocks and making plays, just creating negative plays because those are game-changers. I feel like we're doing a pretty good job, and we can definitely improve on that. I feel like if we continue to practice hard and come to work every day we'll continue to get better." – DL De'Braylon Carroll on the defensive performance this season 
Depth Chart Notes
Here's an updated depth chart from Rice football heading into the UTEP game.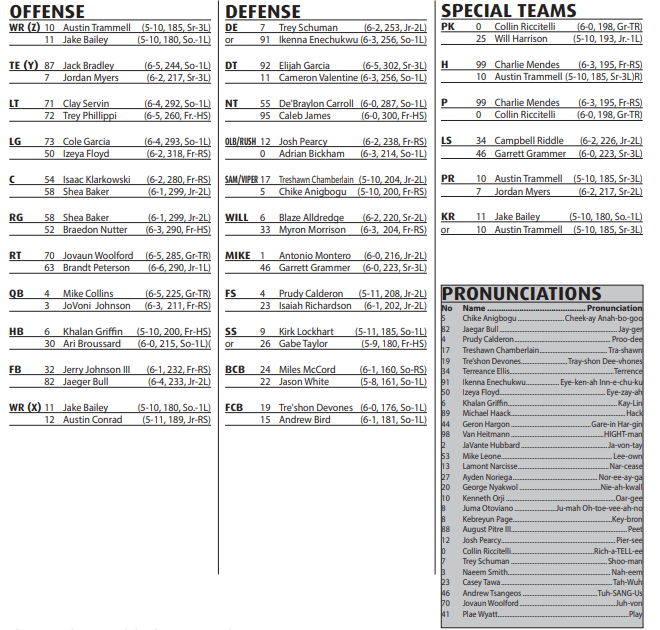 Running back Juma Otoviano was expected to be back this weekend, but his name is absent from the depth chart this week. It wouldn't surprise me to see him go through pre-game warmups and have his status evaluated again at that point. Ikenna Enechukwu and Trey Schuman have flip-flopped at the defensive end spot, but the OR designation remains. We'll most likely see both of them.
Looking ahead

Subscribe on Patreon for exclusive Rice football recruiting updates, practice notes and more.
Recent Posts