The first depth chart of the 2020 Rice Football season has been published. There weren't many surprises, but some of those starters weren't at practice.
I won't bury the lede, here's the first depth chart for Rice Football this season. For the most part, it's chalk. The upperclassmen and vets are in the same spots as they were last season with the freshmen and new names at the bottom of the ranks with room to move upward in the next couple of weeks.
Beyond the depth chart, this update has some important injury updates, including a key player that Rice might be without for a significant amount of time. Later in the week, I'll have a few early camp standouts.
Practice updates reserved for subscribers. Sign in to see this content or visit our Patreon page.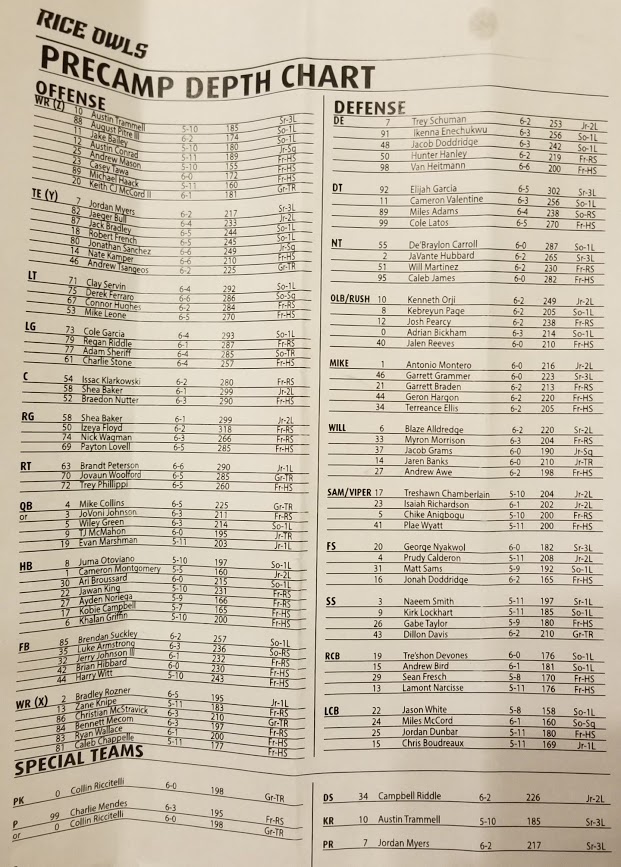 Depth chart takeaways
1. Special Teams
If Jordan Myers really does take over the primary punt return duties this year he'll be one of the first tight ends to fill that role that I can remember. An OR designation at the punter spot was also somewhat of a surprise. It's still going to be Charlie Mendes' job to lose, but it sounds like it's going to be a real battle between the redshirt freshmen and Stanford transfer Collin Riccitelli.
2. Quarterback
If it wasn't evident before, this is officially a two-horse race. As mentioned in the previous update, the man out in front early is

Subscribe on Patreon for exclusive Rice football recruiting updates, practice notes and more.
Recent Posts