The Owls signed their first members of the 2020 Rice Football recruiting class this week, setting the stage for an exciting future at South Main.
1. The 2020 Rice Football recruiting class could be the best ever
Recruiting rankings are inherently subjective. If NFL front offices can't nail their draft classes with several years of college tape, it's understandable for high school projections to be equally askew. While the projectability of individual players varies, the aggregate measures do a pretty good job of demarcating classes. For example, the top four 2020 classes entering the early signing period? Clemson. Alabama. LSU. Ohio State.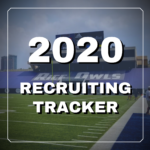 When the early signing period began, Rice had the No. 4 recruiting class in Conference USA before being bumped down to No. 5 by the  afternoon. Since recruiting rankings were first compiled in the early 2000s, the program has only one Top 4 class (2007). The average Rice class has checked in about eighth, and that includes times when Conference USA only had 12 teams.
Mike Bloomgren's first class was the No. 12 class in C-USA. Last year's class was No. 11. Assuming Rice picks up a few additional pieces between now and National Signing Day in February, the Owls will be in the range of their best class in school history. That won't spot the Owls any points in their games, but the more talent you have on the field, the better your record tends to be.
2. Rice can win big battles
Rice flipped offensive lineman Mike Leone from Yale this week, but winning battles against the Ivy League isn't the only area of growth for this staff. On Wednesday, the signed members of the 2020 Rice Football Recruiting class held offers from some of the following schools:
LSU
Colorado
NC State
Syracuse
Maryland
Pittsburgh
Boston College
Kansas State
Kansas
Houston
SMU
Tulsa
The Owls beat out established Power 5 teams and some of the best Group of 5 programs in the country. They went head to head with programs across the nation with established recruiting strategies and won enough battles to field an impressive class. Rice might not sign a slew of 5-stars any time soon, but the Owls have proven they can get the playmakers to campus.
3. Rice doubled down on the two biggest positions of need
The defense remains mostly intact entering 2020, putting an added focus on the offense for this recruiting cycle with quarterback and offensive line the two positions under the most scrutiny. It's no secret Rice has had a revolving door at the quarterback spot for each of the past two seasons.
Signing two signal callers in the same class is unconventional, but it's a step Bloomgren and the staff believed they needed to take. "Durability is a big part of playing that position," Bloomgren said, stressing the injury problems of the Rice starters and the value of having depth in the room.
To achieve that goal, Rice signed former TCU quarterback Mike Collins and Cerritos JUCO quarterback TJ McMahon, both of which will enroll early in time for the spring. One of those two, or incumbents JoVoni Johnson and Wiley Green will win the starting job next season, and possibly beyond. At this point, it's hard to say there's an obvious frontrunner, but the depth from No. 1 to No. 4 is unequivocally the strongest it has been since Bloomgren and his staff arrived. The players are there. The challenge now is to find "the guy" and stick with him.
Losing three grad transfers on the offensive line made finding ready-to-play talent in the trenches imperative. Rice fulfilled that need with four new additions, two high school signees (Mike Leone and Trey Phillippi) and two transfers (Jovaun Woolford and Adam Sheriff).
Woolford should step in and start immediately. Sheriff is another guy who will likely have an inside track. Both will enroll in January and be on campus for the spring. Those two, alongside younger players already on campus like Isaac Klarkowski, Cole Garcia, Regan Riddle and Derek Ferraro, should make up for a strong front five, however the coaching staff chooses to deploy them.
4. The national recruiting strategy works
The 2020 Rice football recruiting class includes players from sea to sea. The Owls went and nabbed Mike Leone, who projects as a multi-year starting tackle from the East Coast. On the same day, they signed Cerritos JUCO quarterback TJ McMahon from California. Altogether, Rice signed players from Texas, California, Connecticut, Florida, Illinois, Louisiana, New York, Pennsylvania and Tennessee.
If there's a player with that can help Rice win, they're going to find them. In the past few seasons, Rice has signed players from 7-man programs, small schools with barely more than enough players to field all 22 positions and national powerhouse programs. There is no place off limits and that's made for some of the most impressive additions the Owls have seen in several years.
5. There's room for more
Rice signed 17 players on Wednesday. Don't expect the Owls to slow down. This class still has room for several new additions before National Signing Day in February. There will be a handful of more high school signees over the next several weeks. The Transfer Portal should provide plenty of candidates as well.
Last year they loaded up with several grad transfers in the latter portion of the recruiting calendar. Offensive lineman Brian Chaffin and fullback Reagan Williams were added after the early signing period was complete. So were former quarterback Tom Stewart and running back Charlie Booker from Harvard and Justin Gooseberry from Ouachita Baptist. All five of those players either started or played significant minutes for Rice in their only seasons on campus.
Rice signed 10 transfers during their 2019 class. They have four transfers in the fold already and at least a half dozen more spots to fill. Expect the Owls to find a few more impact players to bolster a class already teeming with talent. Bloomgren alluded to there being some potential impact additions who could become Owls over the course of the next month.
TLDR: the fireworks aren't done yet. There's more to come from the 2020 Rice Football recruiting class.

Subscribe on Patreon for exclusive Rice football recruiting updates, practice notes and more. React to this story on our forum.
Recent Posts