The first offer of the 2021 Rice Football recruiting class has been extended to Wyatt Begeal, a quarterback the Owls hope will be their future.
This is a big one. Rice football is two months away from the early signing period for their 2020 class. In the most recent recruiting cycle, the Owls didn't extend their first offer to a high school junior until January.
That 2020 class is on track to be one of the best classes in program history. Their first commitment of that class, safety Plae Wyatt, didn't make his pledge until the end of February. The highest-rated player to jump on board to this point, Sean Fresch, committed at the end of June. The 202o Rice football class isn't done yet. The Owls have several additional targets in their sights  — more on that in a separate update soon.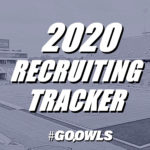 Not only is Rice setting a great pace with that strong class, but they've also kicked off the 2021 cycle with arguably their most important target: a quarterback. And not just any quarterback, Cibolo Steele's dual-threat triggerman Wyatt Begeal.
First and foremost, Begeal is a playmaker. He threw for 2,100 yards as a sophomore. He kicked off his junior campaign with 1,384 yards passing, 11 touchdowns and four interceptions with 420 yards rushing and six rushing touchdowns.
Standing at 6-foot-1 and tipping the scales at just under 200 pounds, he's a compact, powerful athlete. And he's the number one priority in the 2021 Rice Football recruiting class. The Owls will begin to extend other 2021 offers as it makes sense, but they're hoping to get out in front of Wyatt's recruitment and bring him aboard as the leader of this class and the Owls' future.

Subscribe on Patreon for exclusive Rice football recruiting updates, practice notes and more.
Recent Posts