Each of the 14 Conference USA Football teams got their turn at the mic in Frisco, Texas this week. Here are a few of the more pressing takeaways.
1. Conference USA football is wide open
Marshall and North Texas were each picked to win their division by somewhat comfortable margins, but six of the conference's 14 teams received at least one first-place vote. There are some favorites, sure, but the conference feels particularly wide on the cusp of the 2019 season.
Louisiana Tech head coach Skip Holtz summed it up with an interesting analogy. "This conference is a lot like Nascar," he said, "Everybody has the same size engine it's just who does the best job of driving it that week."
More or less every coach followed in lockstep. Holtz added there were "no weeks off." North Texas head man Seth Littrell echoed those sentiments. Despite being penciled in as the frontrunner, Littrell knows as well as anyone there are no sure things. "A lot of things can change from July to  November," he admitted, "There's a lot of great coaches. A lot of great players. Any given week you better prepare the right way in order to have success… Then you gotta see what way does the ball bounce."
2. The Transfer Portal is still taboo
Coaches across the conference sounded off on the introduction of the Transfer Portal. Perhaps unsurprisingly, none gave it a particularly positive endorsement. UTEP head coach Dana Dimel didn't mince words. "It's become too accessible," he declared, "Once you're worked your tail off to get a kid now he's gotta take the ups and downs of what college careers are all about. You can't just pull the ripcord." Marshall's Doc Holiday's criticism was succinct: "I don't like it."
The schools are clear victims of the players' accessibility to the transfer market. It makes sense for coaches to want to do everything they can in their power to keep their players on campus, but there's another angle to this coin.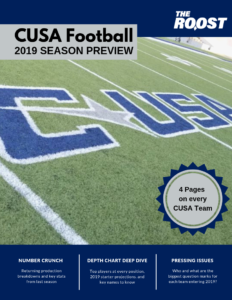 Once a player puts his or her name into the Transfer Portal they waive the right to their current scholarship. If the player tests the waters and decides to return the university has no obligation to reserve a spot for them. That sticky middle ground has left many in a tough spot.
"I think the coaches as a whole weren't in favor of it," Southern Miss coach Jay Hopson said. "Just because most of us [coaches] are former student-athletes. What's happened now is there are hundreds of kids who had a scholarship and now they don't."
There's clearly some more work to be done to iron out the kinks of this process.
3. The coaching carousel never really stops
Stability on the coaching front is rare for any league and Conference USA is no exception. Western Kentucky (Tyson Helton) and Charlotte (Will Healy) are breaking in new coaches this season. On the other end of the spectrum, North Texas (Seth Littrell) and UAB (Bill Clark) are trying to hold on to theirs.
Littrell and Clark each had their names tied to prominent jobs in the offseason. They each stayed put, with Littrell inking a lucrative contract extension. 2020 might be a different story. Clark went as far as to address some of the rumors. "I have dreams and aspirations. I want to coach at the highest level. Those are things that I've worked for, but it's still what about we do today."
4. Nobody is sleeping on Rice
There was a fair amount of buzz about the Owls around the room in Frisco this week. It's no secret Rice runs an unconventional offense compared to their conference foes. The complexity of the scheme was limited in year one, but should continue to progress into 2019. Opposing coaches are well aware of the challenge the Owls will pose when they get things up and running.
Seth Littrell praised the intricacies of the Owls attack, saying that Rice does "a lot of different things, not only just using a fullback, but their tight ends. Then you get to their shifts, trades and motions. You gotta be extremely disciplined on defense in order stop that system." Frank Wilson called Rice a team that's going to "punch you in the mouth."
It's clear Rice is gaining recognition amongst their peers. Next, they'll need to put all the pieces together and prove it on the football field this fall.

Subscribe on Patreon for exclusive Rice football recruiting updates, practice notes and more.
Recent Posts