Conference USA Media Days are underway in Frisco, Texas. Stay tuned here for all the latest news and updates on Rice football and CUSA.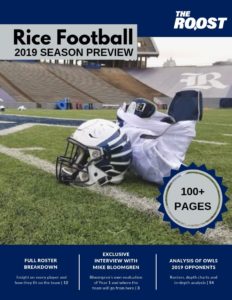 Monday
The coaches selections for the 2019 Conference USA Football All-Conference Team were released. In addition to 30 first-team selections, three players were recognized above the rest:
Offensive Player of the Year – North Texas QB Mason Fine
Defensive Player of the Year – FIU LB Sage Lewis
Special Teams Player of the Year – Charlotte kicker Jonathan Cruz
Tuesday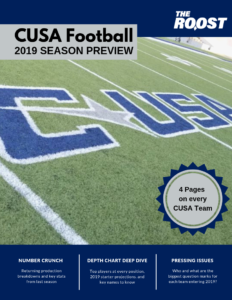 The 2019 Conference USA Football Media Poll was released.
EAST DIVISION
1. Marshall (14)
2. FIU (9)
3. Florida Atlantic (3)
4. Middle Tennessee
5. WKU
6. Old Dominion
7. Charlotte
WEST DIVISION
1. North Texas (20)
2. Southern Miss (4)
3. Louisiana Tech
4. UAB (2)
5. UTSA
6. Rice
7. UTEP
Wednesday
Live stream available on ESPN3
Teams will bounce around from station to station today, spending time on the live stream and various media outlets from around the country including CBS Sports, NFL Network and Stadium.
12:05 pm – Rice is scheduled to be on the live stream from 2:15 to 2:30. They're the second team on deck for today, starting with North Texas at 2:00 pm.
1:25 pm – Louisiana Tech head coach Skip Holtz on Rice – "It's definitely going to be a change of pace for everyone with the offense Rice is running in this league… I know what that program is capable of. I have great respect for that program."
2:42 pm – UTSA head coach Frank Wilson on Rice – "It's always challenging any time you face someone with that physicality and they take on that persona that they're going to punch you in the mouth."
2:45 pm – Rice Football DT Myles Adams – "I feel like we've been rebuilding for some time now and it's time to showcase what we've built."
Louisana Tech Head Coach Skip Holtz on ultra-alumni Terry Bradshaw's comment that Texas QB Sam Ehlinger 'ain't that good:' "I don't think Texas needs another soundbite to get fired up for a game." The Bulldogs open the season 8/31 vs. the Horns in Austin. #conferenceusamediadays pic.twitter.com/qVsPJRBd4O

— FWAA (@TheFWAA) July 17, 2019
3:34 pm – North Texas head coach Seth Littrell – You've gotta be extremely disciplined on defense in order to stop [Rice's] system… this is a diverse league… You're going to see about everything. That's what makes it fun though, you want to coach against these great guys and these systems. To be honest with you, you probably see more hybrid things in this league than you see in any league I've been in."
Don't Forget! Grab your copy of the 2019 Rice Football Preview or 2019 Conference USA Football Preview today. Support local CUSA coverage and get the best insight on all 14 conference teams from local reporters and writers who know it best.

Subscribe on Patreon for exclusive Rice football recruiting updates, practice notes and more.
Recent Posts