The process continues into Year 2 for Mike Bloomgren and Rice Football and building a winning culture remains a focal point of the Owls rebirth.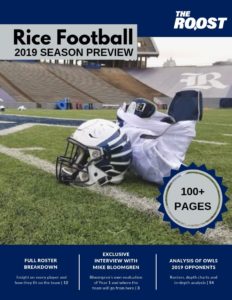 When Mike Bloomgren took charge of the Rice football program it had fallen on challenging times. The Owls were in need of a major reset, one which got underway with a 2-11 campaign in 2018. Those arduous weeks produced churn in the starting lineups on both sides of the ball. Talent was a factor, but grit and focus were equally prevailing forces.
Instilling grit begins with the strength and conditioning program, one which Bloomgren himself has revamped his program over the past year. "We're just night and day different from last year," he said, "I think Hans Straub is the best strength and conditioning coach in the country. We are so lucky to have him. Everything he does helps me sleep at night"
That refrain, initially spoken by Bloomgren, was echoed by his players during the other media sessions.
"You see it too?" senior defensive lineman Myles Adams asked on the way from one interview to the next. The core of the change, at least how Adams describes it, is the culture."It's different. I've never felt like this since I've been at Rice."
From the workouts to the new people being added to the program in each recruiting cycle. The new Rice feels different. "Culture, that word is real," Adams echoed, "When I first came in I used to say we didn't have a culture, but we had a culture it just wasn't a winning mentality, it wasn't a winning culture. And now we're starting to reshape than and understand what it takes to win."
Wins are the defining metric by which all football programs are measured. The Owls final record will be the overriding determinant of success in 2019. But, in a year with expectations in the process of being reset from four consecutive losing seasons, how Rice plays could be equally important.
If this team is as tough as the talk, the wins will follow. Or, as Adams says, "when all the wheels are moving it's hard to stop the train."

Subscribe on Patreon for exclusive Rice football recruiting updates, practice notes and more.
Recent Posts