The 2020 Rice football recruiting class has added a big grad transfer target up front. Colgate offensive lineman Jovaun Woolford has committed to the Owls.
The Rice football offensive line was completely retooled entering the 2019 season. The Owls brought in three grad transfers: Brian Chaffin (Stanford), Nick Leverett (North Carolina Central) and Justin Gooseberry (Ouachita Baptist).
All three of those new additions are out of eligibility, and although players like walk-on Isaac Klarkowski have emerged, bringing in a veteran presence in the trenches was a focal point of the Owls' recruiting efforts in the 2020 cycle. Head coach Mike Bloomgren's background with offensive lines continues to pay dividends.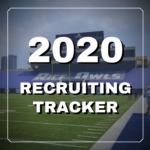 Rice has answered that priority with its most recent commitment. Grad transfer Jovaun Woolford — a three-year starter from Colgate, who stands 6-foot-5, and weighs 300-pounds — will play his final season of eligibility at South Main.
A former high school wrestler, Woolford is going to bring an infusion of physicality and proven production to the Rice football offensive line. Woolford redshirted in 2015 and missed the majority of the 2018 season with an injury. His breakout year came between those campaigns, in 2017 when he started all 11 games at right tackle, earning first-team All-Patriot League honors.
Clay Servin will most likely hold down his spot on the left side of the line. The right tackle spot is open with the departure of Gooseberry, seemingly a natural spot for Woolford to slide into.
With Woolford committed, the Owls can be a bit more selective on other potential additions in the trenches. At the very least, Rice football has two quality offensive tackles to block for their deep stable of running backs. New additions beyond Woolford or not, this a big get for the Owls.

Subscribe on Patreon for exclusive Rice football recruiting updates, practice notes and more.
Recent Posts