Rice football hosts FAU this week. Here's what Mike Bloomgren had to say about the matchup at hand and a few depth chart notes.
Head coach Mike Bloomgren and a set of players met with the media for their customary weekly availability. They recapped the Charlotte game and looked ahead at their upcoming matchup with FAU.
We touch on those items, then dig into the Rice football depth chart and what the team looks like heading into the weekend. First, the quotes:
Press Conference Quotes
"All we did about by winning that game and taking care of business on Saturday is made this week much bigger, I told them that in the locker room after the game and it's so true, we understand we're in playoff mindset. We understand the degree of how important this last game, the last game of the regular season. We're excited for it."– Mike Bloomgren on the impact of the Charlotte game

"He had a good doctor's appointment yesterday. He's better every single day and nothing has changed from what I told you last week. The moment he can he feels like he can do this thing, we're going to go with him." – Mike Bloomgren on the status of JT Daniels

"He was on their team last year. And I vaguely remember him. Coach Alamar showed me some film today where he was the punt returner last year. But this year, you can't turn on a single one of their films without noticing him. He is so exceptional. I think he does a great job." – Mike Bloomgren on the status of FAU WR LaJohntay Wester

"We all know what's at stake. I'm not having any trouble getting these guys to focus or be in the building. They're sleeping here in the building, just like a coaches are. They're around here all the time. It doesn't matter if [FAU] scored 100 points last game or zero, or eight as they did, but whatever the case, our team is just ultra focused on this opponent and we're certainly giving them the amount of respect that they deserve. We know that they're very talented football team." – Mike Bloomgren on the teams' focus right now 

"To be completely honest, I haven't put a whole lot of thought into it. Coach Smith has a great phrase, be where your feet are. I've really tried to just focus on prep for this week, focus on prep for last week, as well. Just get the offensive line, especially the guys that are kind of within my frame of control, just make sure we're as prepared as possible…

I do think it's going to be emotional during the game. This is my sixth year and this is the final home game. Going back all the way to 2018, there's been a lot of ups, a lot of downs. A lot of good moments, a lot of bad moments in this stadium, but I'm so extremely blessed to to have been here for all six years and to have a guy like Coach Bloomgren sort of mentor me and coach me through through life as well as football." – Offensive lineman Clay Servin on his final home game
"I think everybody is so proud of DJ, what he's overcome in this program. What he's battled through and how he was able to come out when his number was called…He's out there recognizing things, recognizing plays. He's a very instinctive player and it's really been fun out there playing with him, communicating on the field, seeing things before they happen and watching him go run around and make the play." – Linebacker Myron Morrison on teammate DJ Arkansas 
Depth Chart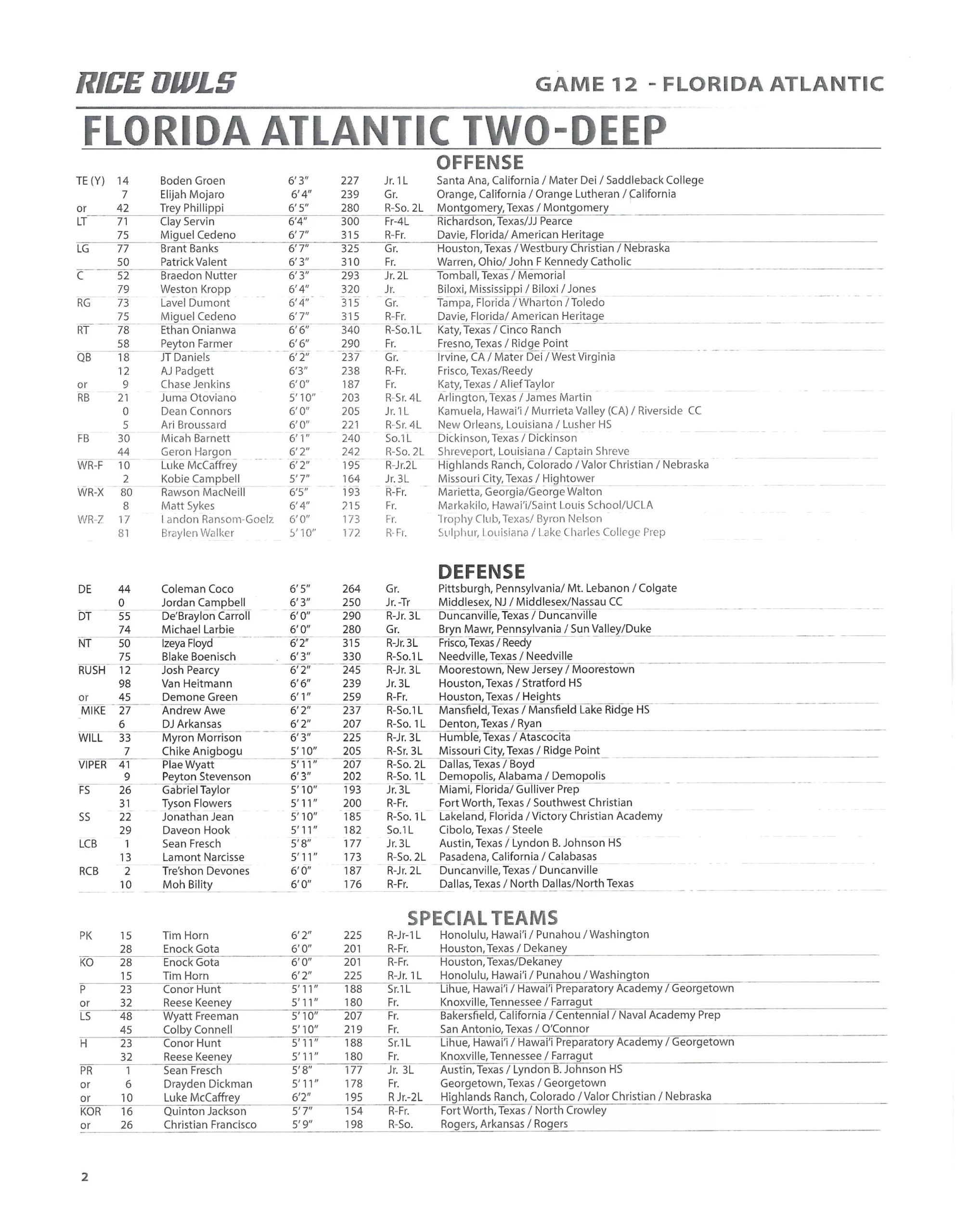 Depth Chart Notes
Tight end Jack Bradley was a late scratch on Saturday against Charlotte and has been removed from the depth chart entirely this week. That typically portends to an absence on game day. That means Boden Groen and Elijah Mojarro would be the Owls' primary tight ends with Bloomgren confirming Mojarro's availability on Tuesday.
Andrew Awe is listed as the starter at Mike linebacker over DJ Arkansas. Both should play, regardless of how the depth chart reads. Gabe Taylor and Tyson Flowers share an or designation at safety this week. How that sorts out might depend on which packages the Owls run in which situation. It'll be something we have updates on later in the week — make you subscribe on Patreon for the latest practice report.
The rest of the depth chart reads as it did last week. As for the quarterbacks, Bloomgren said AJ Padgett would be in line to start again, should Daniels not be cleared, and that no matter who starts, Chase Jenkins will get some time on the field to take advantage of his fourth game of playing time while retaining his redshirt status.

Subscribe on Patreon for exclusive Rice football recruiting updates, practice notes and more.
Recent Posts