Rice football visits UTSA this week. Here's what Mike Bloomgren had to say about the matchup at hand and a few depth chart notes.
Head coach Mike Bloomgren and a set of players met with the media for their customary weekly availability. They recapped the SMU game and looked ahead at their upcoming matchup with UTSA.
We touch on those items, then dig into the Rice football depth chart and what the team looks like heading into the weekend. First, the quotes:
Press Conference Quotes
"There was the holding call that was crtiical. There were a couple fouls on defense that kept drives alive and that were after the whistle type plays that are just things that we have to clean up if we want to be a championship level football team. When the margins are so small, you gotta have the discipline to not have the self inflicted wounds."– Mike Bloomgren on what the team learned from the SMU game

"I thought our win against Houston was phenomenal. I thought that was a great step. Now, how do we do it in our conference against the top teams in our conference? We played three [great teams] in a row. How do we find a way to make that play in the fourth quarter? Because we're pushing teams to deep water. We're doing things, we've never been able to do and certainly wouldn't be able to do in the past but they starting quarterback going down. " – Mike Bloomgren on the growth of the team

"They play a three-four defense that's going to build a wall. And they make everything incredibly hard to run the ball and then they play it top down with their cover four behind it. When you do that, it hard for an offense. Now their offense, they're going to be that downhill run team and they're going to take some shots. They're going to line up and have Frank [Harris] just make plays. " – Mike Bloomgren on on UTSA

"The biggest thing for me is just that chemistry. I feel like chemistry is a big thing between quarterbacks and receivers and I feel like I got that pretty early with Chase [Jenkins] and AJ [Padgett is from my area, so we were throwing in the summer when we weren't up here. So we definitely got some chemistry in that, and just having guys who can throw the ball back there, like they can, it's just great. It's great to have. " – Wide receiver Landon Ransom on his relationship with the Rice quarterbacks
"I can't tell you how many conversations Daveon [Hook] and I have had about — 'When we're seniors, when we're playing, this is how we're going to do it.' It's really cool to be on the field with Daveon and Plae [Wyatt], Plae's a character too. Getting to be on the field with him and his energy, it's awesome, especially just thinking back to a year ago when me and Daveon were on scout team just doing our best to wreck havoc for the offensive guys. Now being able to do it in an actual game, it's really a blessing and I feel really lucky to be able to be on the field with them." – Safety Tyson Flowers on the comradery in the secondary 
Depth Chart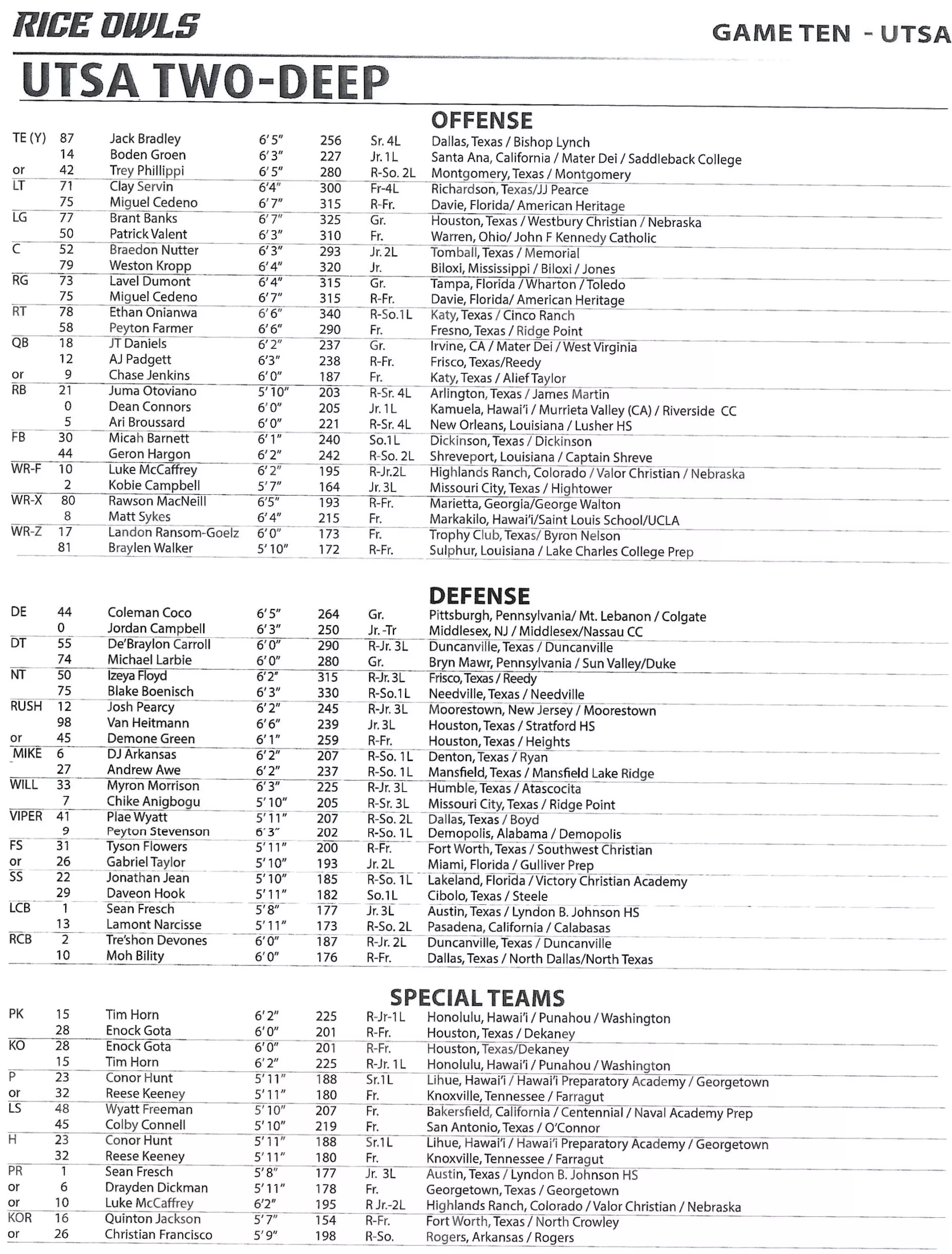 Depth Chart Notes
The offensive depth chart doesn't look any different this week, with a very important caveat. The status of JT Daniels for this game is not certain, "doubtful" in Bloomgren's own words. Make sure you read our Thursday practice report, reserved for subscribers, for the latest on the Rice football quarterback situation heading into the UTSA game.
As for the defense, the depth chart does have a few changes, most notably the removal of Chris Conti after he suffered an injury prior to last Saturday's game against SMU. Taking his place at the starting linebacker spot is DJ Arkansas, who had already been being utilized in a few packages over the past few weeks.
Demone Green has supplanted Van Heitmann as the primary backup to Coleman Coco and Jsoh Pearcy remains listed atop the other side. We'll have more updates on his status later in the week as well. Ditto for the free safety spot, where Gabe Taylor has been given an OR designation to reflect his questionable availability.

Subscribe on Patreon for exclusive Rice football recruiting updates, practice notes and more.
Recent Posts