Rice football hosts SMU this week. Here's what Mike Bloomgren had to say about the matchup at hand and a few depth chart notes.
Head coach Mike Bloomgren and a set of players met with the media for their customary weekly availability. They recapped the Tulane game and looked ahead at their upcoming matchup with SMU.
We touch on those items, then dig into the Rice football depth chart and what the team looks like heading into the weekend. First, the quotes:
Press Conference Quotes
"Having watched the film, I really think what we talked about after the game was exactly right. I couldn't be more proud of our response after halftime, the way we played in that third quarter. Unfortunately we dug ourselves a pretty big hole against the defending conference champs. We battled and battled and we came up short."– Mike Bloomgren on the Tulane game

"They're lighting up the scoreboard and they're not allowing many points to be scored against them. That's the thing that's most evident right now. You look at their last couple games, I think they've given up 10 points and scored a ton. They're a very talented, athletic group, really in all phases." – Mike Bloomgren on SMU

" I think it's important more than ever to focus on us and the things that win football games and what that looks like going forward. That was the challenge to the team, understading how talented we are and how we have everything we need in this team meeting room. I still believe the Rice Owls are the only team that can beat the Rice Owls, and there's a lot of comfort in that as we go out and work." – Mike Bloomgren on his team's mentality

"My grandfather played center for them back in the 70's. My great-grandfather was part of their four-horseman with Doak Walker. I definitely have a lot of Ponies in my family and there was a lot of pressure for me when I was getting recruited to be a Pony, but that just makes this game more exciting. I'm trying to get my grandpa to come out to the game. He'll be in the stands" – Tight end Jack Bradley on his family connections to the SMU program
"[SMU] was my first offer and then Rice came along and offered me and I committed to Rice. One of the first things that I said to my pops was that I wish we played SMU. Three or four years later, we finally got the chance so it's time to ball." – Safety Plae Wyatt on SMU
Depth Chart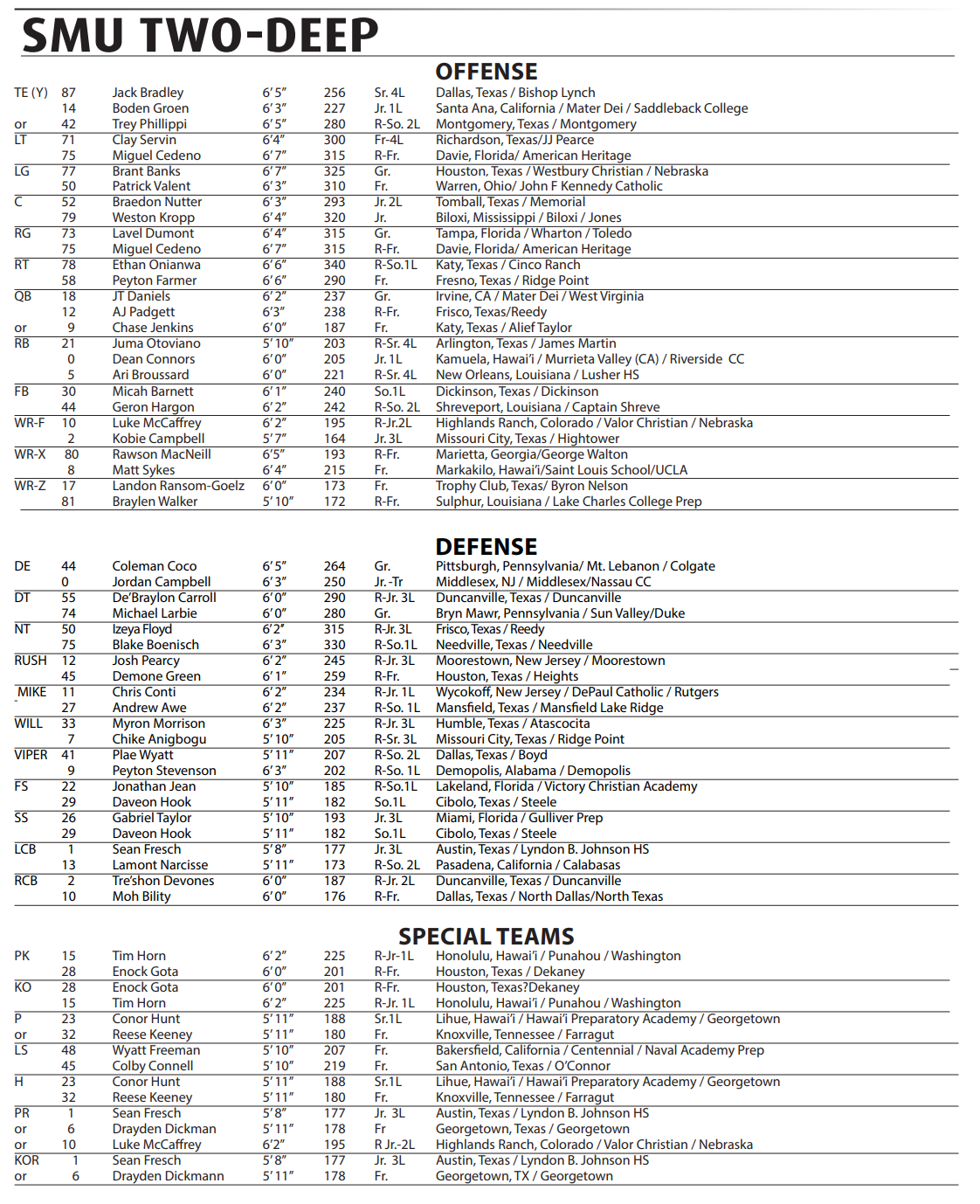 Depth Chart Notes
The injury to Josh Pearcy, who's status is currently unknown for this coming weekend, provided an opportunity to update the depth chart along the defensive line. Demone Green is now listed as the backup rush end, behind Pearcy, after spending much of the season to this point backing up Coleman Coco at defensive end.
Additionally, Michael Larbie has pushed in front of Elroyal Morris at defensive tackle. Larbie had a big sack against Tulane this past weekend. Rounding out the changes was the promotion of Jordan Campbell onto the depth chart behind Coco. Campbell has been used as a situational pass rusher for a few weeks now and should continue to see some run.
How that group is utilized this weekend will depend, in large part, on the availability of Pearcy. We'll have more updates on his status and other plans for Saturday on Thursday with our practice report, reserved for subscribers.

Subscribe on Patreon for exclusive Rice football recruiting updates, practice notes and more.
Recent Posts