Rice football hosts Tulane this week. Here's what Mike Bloomgren had to say about the matchup at hand and a few depth chart notes.
Head coach Mike Bloomgren and a set of players met with the media for their customary weekly availability. They recapped the Tulsa win and looked ahead at their upcoming matchup with Tulane.
We touch on those items, then dig into the Rice football depth chart and what the team looks like heading into the weekend. First, the quotes:
Press Conference Quotes
"Looking back, I'm still proud of how our team attracted bye week and how they prepared for that game at Tulsa. It's a well-deserved team win, as complete of a win as we've had against an FBS opponent. [There were] a lot of things to be proud of in that game."– Mike Bloomgren on the Tulsa win

"This is not the kind of football team we played in our conference last year. This is a team that looks a lot more like Texas or Houston. This is a talented team from top to bottom. And in some ways, I guess that's what the American [Conference] is. The American's, a great conference week in and week out, but these guys won that conference last year. And you see why. You see how well coached they are. You see unbelievable effort across the ball. You see a team that does a great job taking care of the football and taking it away. So there's a lot of things they're going to be a good challenge for us." – Mike Bloomgren on Tulane

"Michael Pratt, I just felt like he was the heart of soul of that team in so many games last year. You go back to the last time they were in Houston playing the team across the street, what he did to lead them back to that overtime win and the way they fought, there's a lot of good stuff in there. I think it's a guy that's very comfortable in their system that they all seem to believe in and he certainly believes he has the answers." – Mike Bloomgren on Tulane quarterback Michael Pratt

"After all those injuries, I had a glimpse of who I was, but like I say all the time to my teammates, I'm almost a fifth year, but that's just by my classification, playing-wise, I'm stil a sophomore. My body is still kind of young in terms of how I look at it… My main focus was just, can I get better every day?" – Corner Tre'shon Devones on his mindset returning from injury this season
"If I'm being honest, I owe all success that I have to him. He's been an older brother to me, helped me with all the struggles that I've had… I wouldn't be here without him… He's just got so much experience. Over the last four years he's done everything for this team so he knows how to run every route and block every play, and he's also just so emotionally inteligent too." – Tight end Boden Groen teammate Jack Bradley
Depth Chart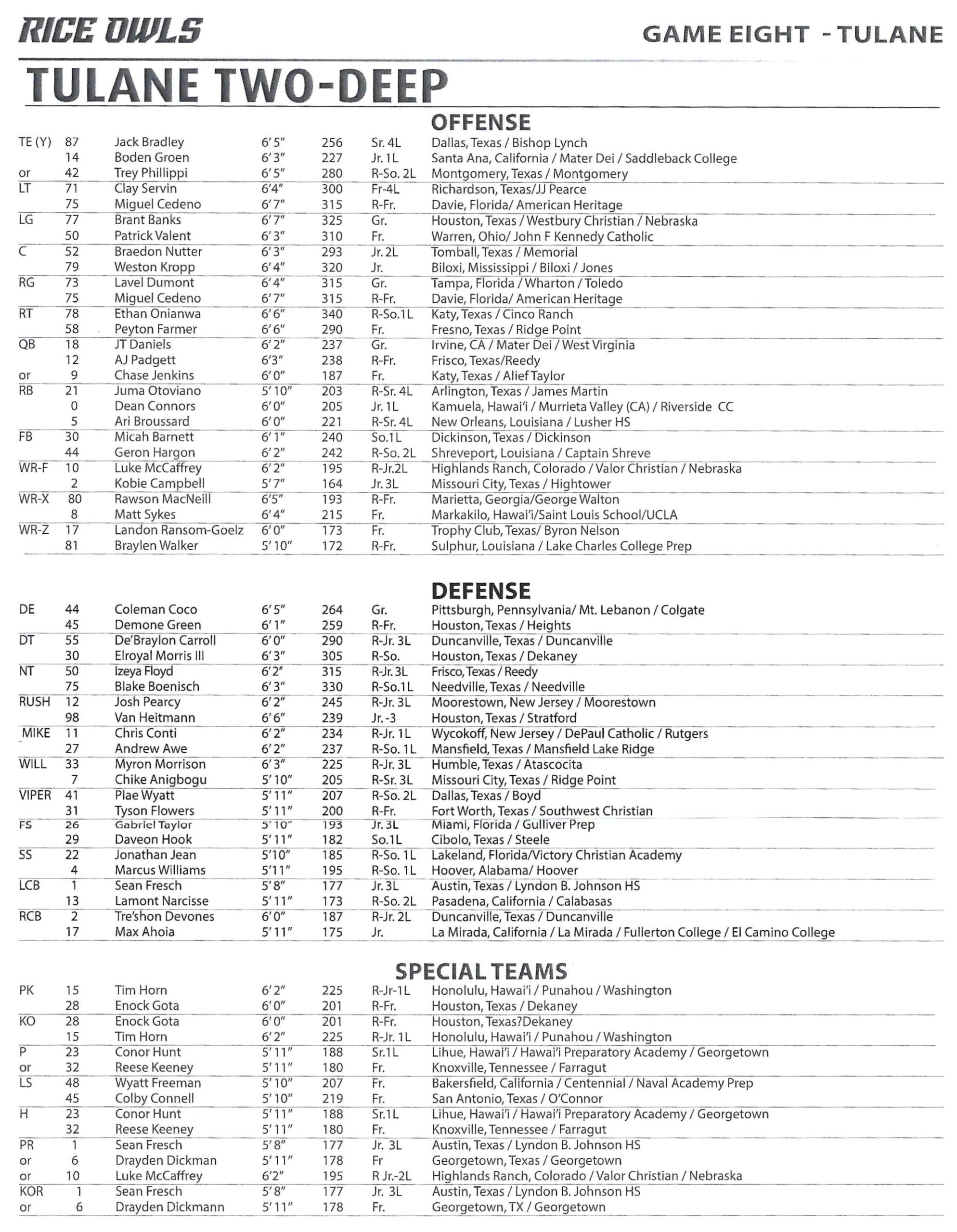 Depth Chart Notes
There was one official change to the Rice football depth chart this week, but it was a procedural update. Freshman kicker Enoch Gota, who has handled kickoff duties for some time now, was formally listed as the kickoff man for this week's game against Tulane. It's more so a correction of a lagging update than a true change. Additionally, an OR designation was added at the punter spot between Conor Hunt and Reese Keeney. We'll have more updates on other plans for Saturday shortly for subscribers.

Subscribe on Patreon for exclusive Rice football recruiting updates, practice notes and more.
Recent Posts