Rice football visits Tulsa this week. Here's what Mike Bloomgren had to say about the matchup at hand and a few depth chart notes.
Head coach Mike Bloomgren and a set of players met with the media for their customary weekly availability. They recapped the bye week and looked ahead at their upcoming matchup with Tulsa.
We touch on those items, then dig into the Rice football depth chart and what the team looks like heading into the weekend. First, the quotes:
Press Conference Quotes
"We know that we're going into Tulsa to play a very good team, a well-coached football team led by coach Kevin Wilson. A team that's in a very similar spot to where we are. They're 3-3. They probably came out of their last game feeling like they could have and should have won that game, so very similar spots."– Mike Bloomgren on the Tulsa game

"I think you see a lot of coach Wilson's fingerprint on what they do. I think they play very physical and very tough, so that's what they do best, is there style of play, if you will." – Mike Bloomgren on Tulsa's strengths

"We had really good practices where we got some good technique work with our coaches in some individual periods. Came out and got a couple periods of early Tulsa practice and then we turned it into a young guys scrimmage." – Mike Bloomgren on how the Owls utilized the bye week

"I feel like definitely with the bye week we had a lot more time to refind our identity, really find that tough, aggresive, fly-around-team that we know that we are. To be able to come back and regroup and play for eachother, finding that again was a great opportunity to do over the by week." – Defensive end Joshua Pearcy om defensive improvements during the bye week
"There team is a run team. So what do they get all summer? They get runs. So they're probably going to be a good run-stopping team. That's one thing that we're trying to improve as an offensive line, our consistency in run-blocking. So that's one thing we've been honing in on and trying to improve." – Offensive lineman Brant Banks on what the offensive line hopes to improve this week
Depth Chart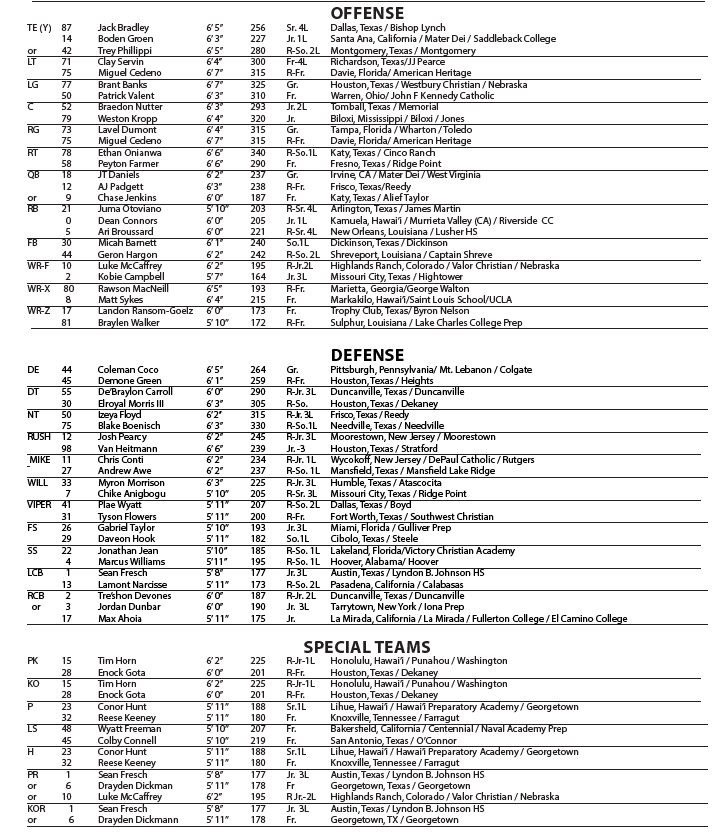 Depth Chart Notes
There were no official changes to the Rice football depth chart this week, but that's been a common occurrence so far this season. There could be a few fairly meaningful deviations from what's been posted given injuries and the special teams mishaps from last week. We'll have more updates on the latest on the plan for Thursday shortly for subscribers.

Subscribe on Patreon for exclusive Rice football recruiting updates, practice notes and more.
Recent Posts