Rice football plays Charlotte next in a battle of 2-2 C-USA foes. Here's what Mike Bloomgren had to say about the matchup, injury updates and depth chart notes.
This is the first of a couple of updates coming this week as Rice football prepares to take on  Charlotte. We'll include updates from head coach Mike Bloomgren's midweek press conference, then dig further into the details on the depth chart and what the team looks like on the field headed into the weekend.
Subscriber content.

Please

login

to see the full post or visit our Patreon page.
Rice football will be forced to make a quarterback change once again. We'll dive into the move from Wiley Green to Jake Constantine and how this impacts the Owls this week. First, the quotes:
Press Conference Quotes
"I was really proud of how the guys attacked it (in practice). Thought they were locked into the game plan. And I was disappointed to see it not fully translate on Saturday. There were parts of it that were good. They were individual players that were really good, but certainly thought we had opportunities in every phase that we could have played better and probably would have been able to win the game had we played better." – Mike Bloomgren on the North Texas loss
"Obviously, Wiley [Green's] injury on our first offensive drive of the game was tough. It was tough for everybody. It was tough for me. It was tough to see Wiley hurting. He's one of our rocks and I don't think there was anybody on our team who wasn't rocked by his injury. It took us a little bit of time to get past that. We eventually did. We worked through it as a team and we started playing football again.

"An update on Wiley; he will be out this week. I did talk to him. He is in great spirits. His message to the team was to go do what we said we were going to do, which is go earn an opportunity to play in a bowl game. That's what we're going to try to do for him." – Mike Bloomgren on Wiley Green
"Moving forward with Jake Constantine as our starter, I thought that, again, once he got settled in, he played some good really good football. He had a great me-to-you factor with Jake Bailey and I thought Jake made some tremendous plays for us. Staying alive and then making plays when the ball was in the air to keep some drives alive and to help us end up in the box. So that was great." – Mike Bloomgren on Jake Constantine
Depth Chart
The Rice football depth chart has one minor tweak this week, and one rather large one: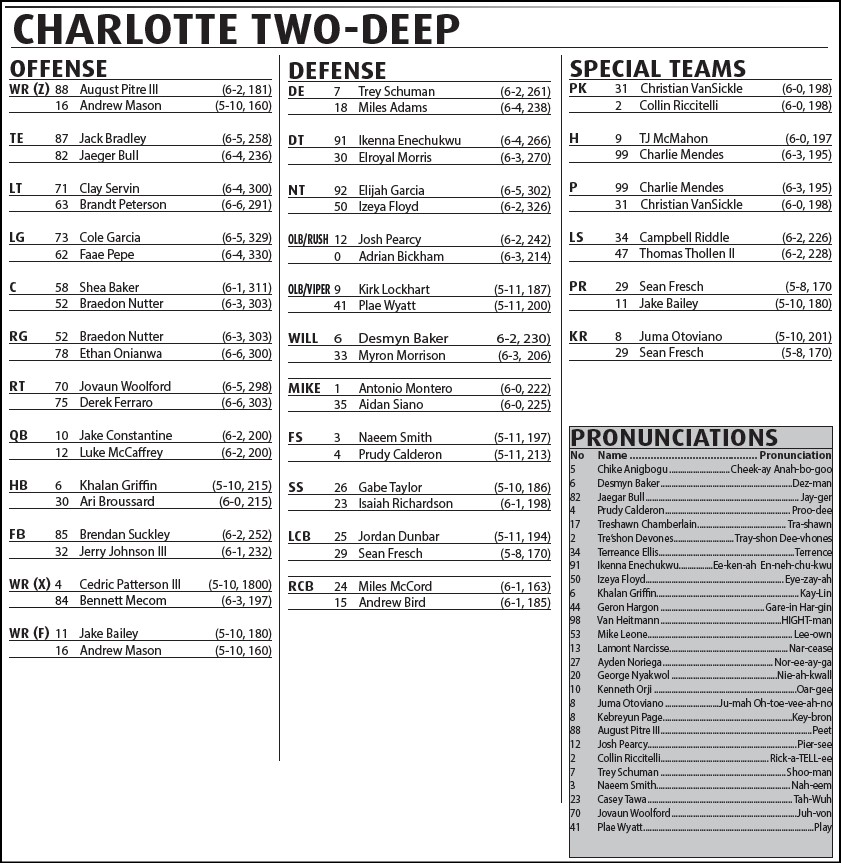 Quarterback changes, again

Subscribe on Patreon for exclusive Rice football recruiting updates, practice notes and more.
Recent Posts