Rice football returns to action this weekend against UTSA. Here's what Mike Bloomgren had to say about it, injury updates and practice notes.
This is the first of a couple of updates coming this week as Rice football prepares to take on UTSA. We'll include updates from head coach Mike Bloomgren's midweek press conference, then dig further into the details on the depth chart and what the team looks like on the field headed into the weekend.
Subscriber content.

Please login to see the full post or visit our Patreon page.
The depth chart looks a decent amount different from where things left off against Southern Miss. There are a variety of reasons for that, and a couple of notable injury updates that coincide with some of those changes. This update will focus on those, with some more in-depth practice notes coming later in the week. First, the quotes:
Press Conference Quotes
"It was a great week because we were able to get healthier. Nobody is healthy in Week 7 of the season. But, we got some guys back and they looked great. We also got some young guys some work…. So I would say it was a very good bye week. We got exactly what we needed out of it." – Mike Bloomgren on the bye week
"I don't know that our conference has seen a defense like this since maybe 2018 UAB. It is just a dominant group out there. It's an old, veteran group. I think nine of their 11 starters are seniors or super seniors. They are a very good group. They're very well-coached." – Mike Bloomgren on the UTSA defense
"I think, with a win like this, people will really start to wake up and understand Rice is here to play. We didn't ahve the best start to the season, but like we said whenever we started out first confernece game against Southern Miss, it's a new season… our goals are still attainable." – Jordan Myers on the significance of the UTSA game
"I got to rest my legs a bit and heal up some minor bruises. It was good to get off your feet for a couple days, but I'm excited to be back in this building and back to work. It got a little boring over the weekend, just not playing in the games, watching games on tv. I want to be out there right now, playing." – Elijah Garcia on the significance of the UTSA game
Depth Chart
The Rice football depth chart looks slightly different after the bye week. Here's how the two-deep the Owls will trot out against UTSA on Saturday.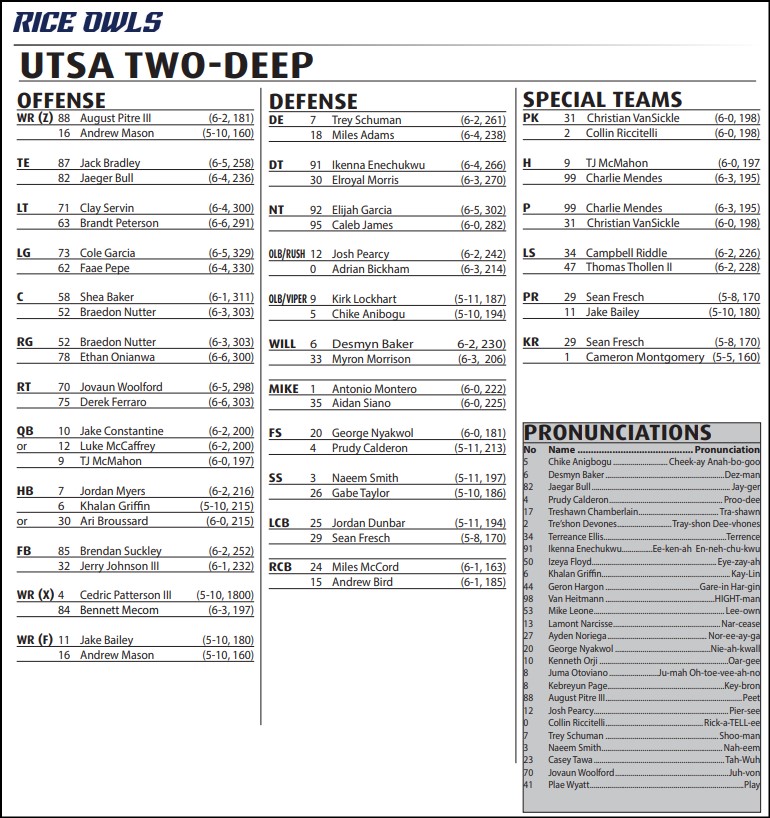 Pitre poised for return

Subscribe on Patreon for exclusive Rice football recruiting updates, practice notes and more.
Recent Posts