The 2020 and 2021 Rice Football recruiting classes are in the works. Here's the latest on the Owls' efforts on the recruiting front.
The end of summer lull in the recruiting calendar has come and gone. While the team has been busy on the field the Rice Football recruiting staff has worked equally hard off of it.
The Owls hosted dozens of players in their first two home weekends. Several commits and key targets took in the game at NRG Stadium against Texas last weekend following a get together on campus with plenty of food and football watching to do in the hours before Rice kicked off.
Here are some updates on the current 2020 commits and a few names to know in the 2020 and 2021 classes. Find the latest info on all the 2020 commits on our recruiting tracker.
Injury update
Last week was a tough one for a pair of 2020 Rice Football commits. Linebacker Geron Hargon suffered a torn ACL while he sacked an opposing quarterback. Uncertain as to the extent of the injury, Hargon returned to the field a few minutes later, scooped up a fumble and dashed 60-yards to the endzone. That play will be the final one of his high school career.
Khalan Griffin will also miss the remainder of his senior season. He suffered a torn meniscus at the start of the 2019 season, but didn't find out until he played on during multiple games. He ran for 158 yards in his first game and 208 yards in game two — all on a torn meniscus.
It's a tough blow for both Hargon and Griffin, but both remain in good spirits. They've become champions of the 2020 Rice Football recruiting class over the last several months. Both should be 100 percent in time for their Rice careers to begin next year.
2020 Quarterbacks
The beginning of the fall has been crucial for the Owls' quarterback evaluation. Rice is continuing to trim their list of priority targets at the position. The staff's find out Jovoni Johnson late in the cycle last year has lessened the pressure to fire off offers too quickly.
The Owls are going to do their homework before they land on their QB1 for this class. Right now, two Austin-based passers are beginning to emerge. Kirkland Michaux from Westlake HS and Wilson Long from Regents HS. Both have been on campus and liked what they've seen thus far.
Long has been on the radar for some time. The Owls are following his senior season, along with Michaux's, before they make their next move.
Michaux said the buy in from the staff and the investment in the future of the program was evident, noting that the facilities were top-notch. He went so far as to say, "it really felt like I was at a Power 5 school" when he visited South Main.
More 2020 names
Jalen Reeves – Defensive End – University School (Fort Lauderdale, FL) | This pass rusher from the sunshine state has a handful of impressive Power 5 offers, but the Owls are going to take their best swing. He'll be on campus for the first time this weekend against Baylor.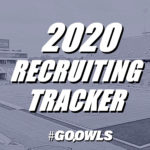 Zack Haaland – Wide Receiver/Corner – Dallas Christian HS (Dallas, Tx) | A starting quarterback, Haaland has the complete package of athleticism and speed. He could be another guy who finds his position once he gets to campus, but right now it's looking like he'll play wide receiver or corner, it wouldn't shock me if he winds up at safety either.
River Woods – Defensive Back – Episcopal HS (Dallas, Tx) | This two-way high school athlete is a highlight reel waiting to happen with great hands and plenty of quickness. His pursuit is savvy and he'd fit in well with the Rice secondary.
2021 Names to keep and eye on
Aaron Session –  Guard – Morton Ranch HS (Katy, Tx) | Big bruiser on the offensive line who's already caught the eye of several teams in state. He was impressed with the facilities in his visit for the Wake Forest game and puts Rice squarely in his top schools, along with Texas, Baylor and Colorado.
Joseph Manjack – Wide Receiver – Tomball Memorial HS (Tomball, Tx) | Called the atmosphere on campus "electric" and really enjoyed his conversations with the coaching staff. He hasn't come close laying out a pecking order for his top schools, but the connection he has with current Rice commit Braedon Nutter and a positive early impression put the Owls in great position this early.
Bryce McMorris – Corner – Bridgeland HS (Cypress, Tx) | Having the opportunity to talk with Bloomgren directly was big for McMorris, who's already taken multiple trips to see the Owls in person this fall. He's excited to see more of campus and continue developing a relationship with defensive coordinator Brian Smith and corners coach Gerrard Wilcher.

Subscribe on Patreon for exclusive Rice football recruiting updates, practice notes and more.
Recent Posts