Rice Football fall camp is officially in the books. Here a few final thoughts before the Owls transition to game prep for their Week 1 opponent, Army.
Quarterback
There will be a definitive QB1 when Rice opens their season next Friday. Coach Mike Bloomgren won't make an official reveal until his pre-game press conference on Tuesday, but there hasn't been any indication that incumbent starter Wiley Green has lost any ground. Green worked exclusively with the first team in the team's final mock game and looked sharp, hitting Bradley Rozner on a back shoulder throw in the front corner of the endzone from 15 yards out.
It's possible Bloomgren leaves the door open for the backup to play, similar to Jackson Tyner's brief insertion into the offense against Prairie View A&M last season. We'll have to wait and see how that is handled.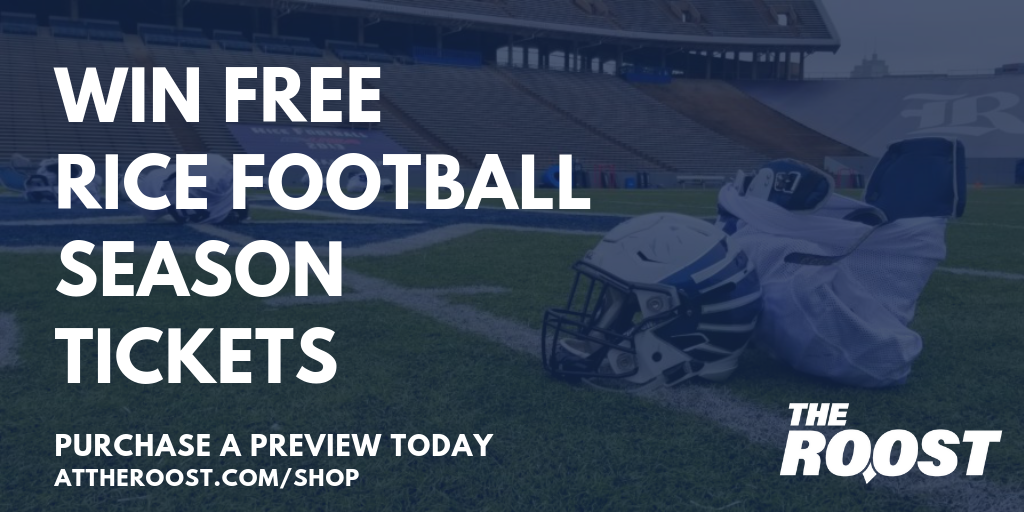 Two beyond the two-deep
Two guys have caught my eye throughout camp that don't figure to have a spot on the two-deep depth chart. Rice likes to use packages, so just because you don't see their name listed with the starters or reserves doesn't mean they won't have an impact in the fall.
Robert French has emerged as an interesting slot weapon. Especially with the thin receiving corps, there could be an opportunity for him to take on a meaningful role in this offense. He's developed into one of the most reliable seam stretching options on offense.
Isaac Klarkowski has become the starting center on the second team. The former wrestler looks at home with the ball in his hands and has taken to the position well. "I think we're going to find a role for him, ultimately," Bloomgren said. For the time being, he'll be the third option after Chaffin and Baker at center.
Ending on a high note
The last snap of practice came from victory formation. There was hooting and hollering as Wiley Green took the knee, signifying the end of fall camp. The final play had long been scripted by Bloomgren and the coaching staff
"We think our job as coaches is to prepare them for everything that's going to come up," Bloomgren said. "Taking a knee on the best play in football, which is victory. Then going and singing the Alma Mater with our fans and going into the locker room and being part of a victorious locker room. It's all the things that we want to do. So we practice them all."
This staff has been intentional about recruiting players from winning programs and instilling a winning culture at Rice. It might have been a bit cheesy, but it was a nice touch.
This is the final practice update from fall camp. Future practice updates (that includes the final depth chart projection linked above) will be reserved for site members. Becoming a member is 100% FREE and takes 30 seconds. You can register here.

Subscribe on Patreon for exclusive Rice football recruiting updates, practice notes and more.
Recent Posts