Rice football took the field for their first scrimmage of fall camp. The defense was impressive, but several offensive players made some big plays.
As a unit, the offense struggled out of the gate on Saturday. They had somewhere around a dozen drives throughout the day, managing to punch the ball into the endzone only twice and reaching the redzone once. The defense wasn't doing anything fancy, staying more or less vanilla, but found repeated success. Here are a few of the bigger moments and notables from both sides of the ball.
Minor bumps and bruises
Austin Trammell, Brian Chaffin and Reagan Williams did not participate in the scrimmage. All three are dealing with some minor injuries which shouldn't impact their offseason progress. Coach Bloomgren confirmed later that had there been a game today, each of the three probably could have participated.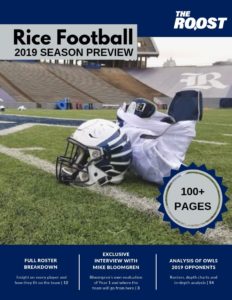 Offensive highlights
As has been the case for much of fall camp, there was plenty of attention on the wide receivers. With Trammell out for the day, several younger faces were given the opportunity to contribute with Jake Bailey filling in for Trammell with the first team.
Zane Knipe had a toe-tapping catch in quarterback/wide receiver drills. August Pitre made an impressive diving snag on third down to move chains on a nice feed from Wiley Green. Chris Boudreaux, working mostly with the reserves, was able to make some nice pickups after the catch in space.
Cam Montgomery was electric out of the backfield, making nice cuts upfield with the ball and being used frequently as a pass catcher. He'll be relied upon heavily in that capacity this season. Charlie Booker and Ari Broussard both showcased some powerful running. While the offense as a whole was somewhat muted, the team was able to make some meaningful games in the run game behind those two players.
More: Check out each and every player profiles in our 2019 Rice Football Season Preview, on sale now.
Wiley Green had some nice moments at quarterback. He led the first team's only touchdown drive, hitting Aston Walter in the flat in the redzone for the score. That was the highlight of an otherwise inconsistent showing from the unit as a whole. Tom Stewart took reps with the first and second team, but was unable to get the offense past midfield, not one of his better days.
Backup Parker Towns took off on a 30-yard touchdown scamper, the only other touchdown scored by the offense during the scrimmage. Jovoni Johnson was the last quarterback in. He displayed polished mechanics and looked comfortable in the pocket. When he did take off an run, his first step was explosive. His accuracy was up and down, but the zip on his passes was evident.
Defensive highlights
Outside of some careless penalties, the defense clearly won the day. Rice was one of the least penalized teams in the country last year, so that issue should correct itself by the time the Owls take the field against Army.
The front seven was dominant. The linebackers were everywhere, led by Blaze Alldredge and Antonio Montero, with some nice stops by Garrett Grammer. Freshman De'Braylon Caroll has already moved up to the second team and had a big day. He's been unblockable through fall camp and will be in the running to see significant minutes quickly. He's been the most impressive freshman on defense so far.
Both Anthony Ekpe and Kebreyun Page forced fumbles. The entire group was quick from sideline to sideline. At one point, three separate defenders chased the speedy Montgomery to the edge for a loss, making it impossible for him to turn upfield and make even a minor gain.
The secondary did a phenomenal job as well. The offense didn't take many deep shots and the few balls that did get thrown downfield fell harmlessly to the turf. D'Angelo Ellis went up and over Brad Rozner to break up a sideline throw by Green. Naeem Smith picked off Tom Stewart for the only interception of the day.
The safety play, headlined by George Nyakwol, Prudy Calderon and Smith, was superb. Corner Treshone Devones was recognized by Bloomgren as one of the Owls' most impressive freshman through the first week of camp.
Special Teams
There were two dedicated special teams portions of practice. Freshman kicker Zach Hoban took all the reps with the field goal unit with the other kickers getting the day off. This wasn't an indicator of Hoban necessarily being ahead in the pecking order, rather part of a cycle to keep all of the kickers fresh. Hoban was sharp and connected on what appeared to be four of five field goals to start the day.
The punting duties were split between Adam Nunez and Chris Barnes. Nunez displayed an impressive ability to place balls directionally well. Barnes was consistent, too, ending his session with a booming punt with a 4.7 second hang time. Nunez is probably a step in front at the moment, but it's still a close race with the strong possibility both see game time this fall.
The scrimmage ended with one more special teams session where Trey Schuman blocked a long field goal. Coach Svoboda confirmed getting hands up in those situations has been a priority through fall camp. That made for a nice finale to the day.
Updated depth charts
Here's how the team lined up for the first scrimmage. This went up on the forum during practice, stay tuned there for live updates.
First team offense
QB | Green/Stewart
RB | Walter/Booker/Otoviano
WR | Rozner, Trammell, Pitre
TE | Bull/French
OL | Servin, Leverett, Baker, Garcia, Gooseberry
Second team offense
QB | Marshman
RB | Broussard, Montgomery
WR | Knipe, Boudreaux, Palmer, Bailey
TE | Bradley
OL | Peterson, Riddle, Baker, Garcia, Osuji
First team defense
DL | Schuman, Adams, Garcia, Ekpe
LB | Alldredge, Montero
CB | Ellis, Bird, Chamberlain
S | Nyakwol, Calderon
Second team defense
DL | Page, Enechukwu, Carroll, Doddridge
LB | Silcox, Grammer
CB | White, Thornton, Newsome
S | Smith, Richardson
All practice updates will be available for all to see during fall camp. Once the regular season starts they'll be reserved for members. Becoming a member is 100% FREE and takes 30 seconds. You can register here.

Subscribe on Patreon for exclusive Rice football recruiting updates, practice notes and more.
Recent Posts