If the Rice Football program was a five-course meal the Owls are somewhere in the middle of prep mode. There are spices being mixed on one counter, a variety of cheeses on another and a big piece of steak being aged to perfection in the center of the kitchen. There's a cookbook, a guide to how to assemble the varied ingredients into one cohesive, delicious meal, but the cook has only just begun his preparations.
That cook is Mike Bloomgren and he's committed to the deliberate art that both cooking and rebuilding a football program requires. "We are a work in progress. We won't make any secrets about that," Bloomgren told his audience at the annual Texas High School Coaches Association Convention this week.
"Year Two is so much better than Year Zero. Everything is better." — Mike Bloomgren
In a sport where failure can lead to dismissal, not many coaches speak as boldly as Bloomgren — at least not outside the walls of their own office. But Bloomgren is different, in part because he hasn't taken his eyes off his cookbook since day one. He's not pretending to be serving the full meal, not yet. Rather, the work being done behind the scenes to get there is progressing well.
Instead of hand-holding and the basics, not that the staff was limited in that capacity at all last season, Bloomgren can ask bigger questions. "This is how we did it last year. It wasn't excellent. Can we make it better?" In most respects, Rice expects they can. For Bloomgren, the hope lies in that preparation that's already been put in place. "The staff knows what I expect day-to-day. The kids know what to expect day-to-day." Now comes the time to implement.
It's the same story Bloomgren has been telling for over a year.  The promise of the finished product lingers in the air floating anxiously over South Main. As much as the world demands instant results, some things can't be rushed — every good cook knows that.
Consider this another pallet cleansing table-setter. Let the words of Bloomgren be the foundation through which you consume the 2019 season: "Year Two is so much better than Year Zero. Everything is better."
Rice is bringing in 40 new players this fall including 10 transfers with 200+ games of college football experience. The players already on campus, the names people know, are bought into every minute detail of Bloomgren's vision. Let the process run its course.
Read more about Bloomgren's process and the groundwork laid in 2018 in our Rice Football Season Preview. Here's a sample on the feature story…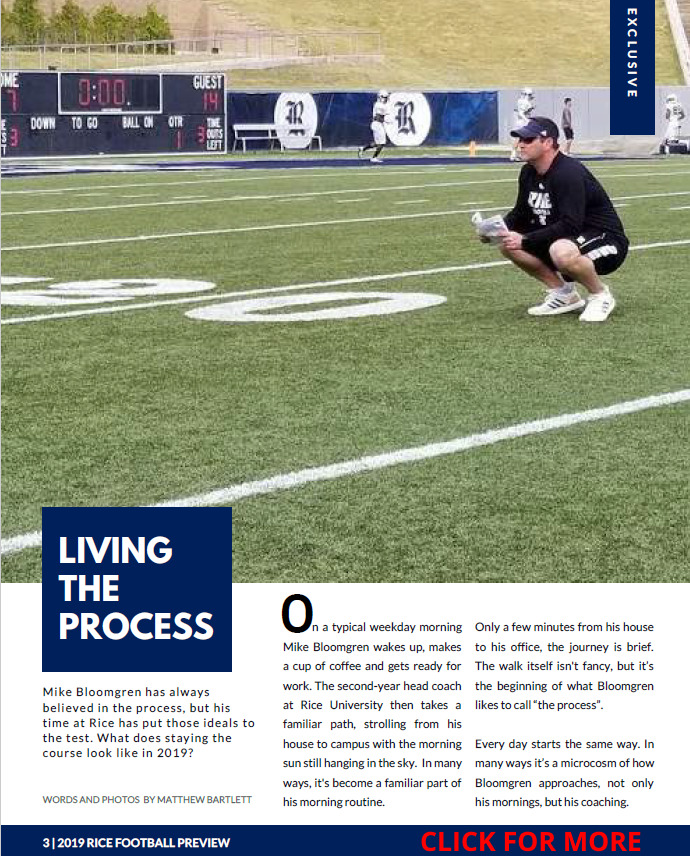 Subscribe on Patreon for exclusive Rice football recruiting updates, practice notes and more.
Recent Posts