The 2020 Rice Football recruiting class is becoming a family, one that's adding talent players to it at an almost unprecedented pace.
Sunday night was a big one for the 2020 Rice football recruiting class. The Owls hosted all of their in-state commits plus a few notable targets for an unofficial visit. Given the proximity of coach Bloomgren's house to campus, the guys were able to gather at his place to hang out and bond with each other and the coaching staff.
From all accounts, the atmosphere was fantastic and everyone had a good time. Several of the guys met face to face for the first time. The most telling comment came from running back commit Khalan Griffin:  "It's like we are already a family."
It would be hard for the mood to be anything less than positive given the rampant recruiting pace Rice is on right now. The Owls own the No. 50 recruiting class in the nation at the midpoint of June. That's the second best class in Conference USA and puts them above some notable programs: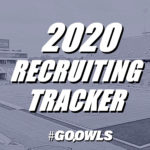 USC (No. 53)
Baylor (No. 64)
Michigan State (No. 65)
SMU (No. 67)
UCLA (No. 75)
Houston (No. 87)
Texas Tech (No. 89)
That highly regarded class could become even better soon. Beyond forging stronger bonds with the current class, Rice made significant headway with current targets, most notably corner Ricky Johnson. The invite list was short for non-committed players. Johnson was among the top of that list.
Johnson had spoken highly of Rice since he was offered following the Adidas 3 Stripe Camp. At that point, he called Rice his top choice. The time spent with the Owls over the weekend solidified those feelings. He's planning to take a few more visits, but Rice has cemented themselves as the unquestioned leader in his recruitment.

Subscribe on Patreon for exclusive Rice football recruiting updates, practice notes and more.
Recent Posts