The 2020 Rice Football recruiting class is picking up steam, grabbing their second commitment of the week from potential two-way standout Devin Gunter.
The Adidas 3 Stripe camp gave Rice football an opportunity to showcase their facilities and their brand with some of the top recruits in college football. That busy day at South Main has already paid dividends. Camp attendee and 2020 athlete Devin Gunter has committed to Rice.
The Missouri City, Tx native had nothing but good things to say following his camp experience. He was impressed with the facilities and enjoyed his time working in person with the Rice coaches. Those relationships have continued to strengthen over the last few weeks.
Gunter has a lot of film at wide receiver, but where he'll play in college remains up in the air. The tentative plan is to start him off at corner, but his athleticism and raw speed are going to have the offensive coaches chomping at the bit to get him the ball in space and watch him work. Another D'Angelo Ellis situation where he plays two ways could be possible in at least some capacity. He's that talented.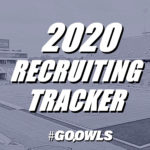 Beyond his athleticism, Gunter has legitimate track star speed. He ran a 4.47 at camp and had that time confirmed with a laser timer later this summer. Rice needs speed on the edges and Gunter is undoubtedly one of the fastest guys they've landed thus far.
Whether he ends up on offense or defense, Gunter is a big play guy in the making. A 6-foot-1, 180-pound athlete, he has great hands and a knack for attacking the football in the air. He's only to get better at the next level.

Subscribe on Patreon for exclusive Rice football recruiting updates, practice notes and more. React to this story on our forum.
Recent Posts