Rice football had the opportunity to host the Adidas 3 Stripe Camp over the weekend, bringing top coaches and players to Houston on Saturday.
It was a big weekend at South Main. More than 500 recruits arrived on campus to participate in the Adidas 3 Stripe camp. After evaluating the talent at hand, Rice handed out four new offers: athlete Trey Johnson (Cy Falls), wide receiver Devin Gunter (Ridge Point), wide receiver Kade Renfrow (Stephenville) and linebacker Kenneth Phillips III (Fort Bend Bush).
If there was a common theme with the offers that went out this weekend, it was speed. Gunter turned heads with a blazing 40-yard dash during drills and Phillips and Johnson weren't far behind. Getting speed at the skill positions is an area Rice needs to improve on. Several of these guys are built in that mold and there could be others from the weekend who get their names added to the list down the road.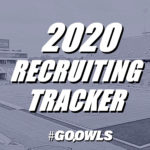 The Owls have been hard at work on a few targets who weren't able to make it to campus this weekend as well. Shreveport, LA linebacker Geron Hargon and Mission Viejo, CA defensive end Lance Kenely like what they're hearing from the Owls.
After picking up offers from Rice in the spring, both guys have stayed in contact with the staff. In that short time, Hargon went so far as to say "Rice has made a big jump recently on my list", citing the genuine nature of the staff and their clear commitment to creating a stronger future. Keneley is working to finish up his school year in California but plans to do everything he can to get to campus at some point this summer.
June will be a busy one for Rice. They'll bring more recruits to campus for visits as they continue to build on CUSA's No. 1 class.

Subscribe on Patreon for exclusive Rice football recruiting updates, practice notes and more. React to this story on our forum.
Recent Posts