Rice football kicks off conference play this weekend against Southern Miss. Here's what Mike Bloomgren had to say about it, injury updates and practice notes.
This is the first of a couple of updates coming this week as Rice football prepares to take on Southern Miss. We'll include updates from head coach Mike Bloomgren's midweek press conference, then dig further into the details on the depth chart and what the team looks like on the field headed into the weekend.
Subscriber content.

Please login to see the full post or visit our Patreon page.
Rice football found some answers at quarterback this past week and looks to be getting a bit healthier as conference play rolls around. One of those newly healthy players is back at the top of the depth chart this week. We'll tackle that addition as well as a few developments from practice early this week. First, the quotes:
Press Conference Quotes
"I feel like we took some real steps forward as an offense. I think that's a big thing for us to do. 620 yards, making explosive plays, being able to be efficient at the quarterback position — those are things that we've struggled to do over time. It's really good to go into conference play knowing we're on an upswing. That gives me a lot of comfort.

Knowing that our defense — we've been missing a couple of pieces in the past couple of weeks, but we should get some of those back — that's really encouraging to me too. Special teams: we're just continuing to grow. So what do I know? I know that we're a team that is playing really hard for each other and at times playing really well, but we've got to become a consistent bunch for 60 minutes." – Mike Bloomgren on what he learned about the team in nonconference play
"Defensively, we made a lot of adjustments during the game. I felt like they made a lot of plays. We were really close on a lot of things but kind of a step behind on getting those things done. I don't think it's anything we can't get fixed this week and that's what we're working towards. Coach (Brian) Smith is really doing a great job with the defense, getting everyone on the same page. We're going to try to get out there and look like our defense for 60 minutes. That's the goal this week." – Mike Bloomgren on the defense
"Great education and running the football. It's pretty simple. I went to Colgate Unversity which was about greater education and running the football, so finding something that had they same type of patterrn and being able to get a great degree from it, that was pretty much a no-brainer. " – Jovaun Woolford on what drew him to Rice
"It's definitely a lot of fun, actually, just switching around positions on the d-line. Playing end, playing rush, playing tackle, playing nose — I've really played all four [positions] this season, I feel like. All the other guys on the d-line are what Coach Calhoun calls 'bilingual'. It just makes us a lot more adaptable for to whenever sudden change situations come up in a game and makes us a better team in general." – Ikenna Enechukwu on the versatility of the defensive line
Depth Chart
The Rice football depth chart shifted in response to last week's performance and a key injury along the offensive line. Hopefully, there will be some more stability from this point onward. Bloomgren hinted he'd like to get to that point in his comments this week. "There's no more experimenting going on right now," he said. "We've got a group that we trust and we're going to go forward with those guys."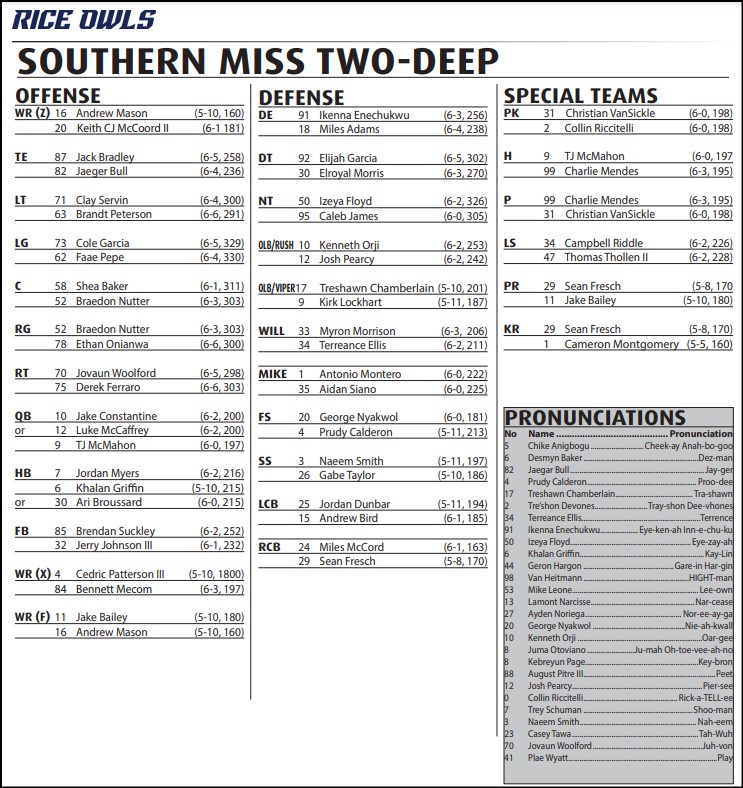 Secondary shifts after TSU's passing outburst

Subscribe on Patreon for exclusive Rice football recruiting updates, practice notes and more.
Recent Posts